Themes
Birthday Themes
1st Birthday Ideas
Pool Party Ideas
Teen Ideas
Tween Ideas

Party Games
1st birthday
2 , 3 & 4 year olds
5 and 6 year olds
7, 8 & 9 years old
Boys Games
Girls Games
Icebreakers
Party Games
Tween Games

Sleepovers
Sleepover Games
Slumber Party
Spa Recipes
Truth or Dare
Scavenger Hunts
8 Mall Hunts
Scavenger Hunts



Party Ideas
Candy Buffet Help
Goody Bags
Invitation Ideas
Party Favors
RSVP Help

Activities
Party Activities
Sidewalk Chalk
Water Balloons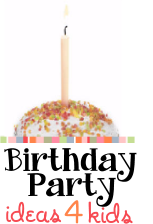 35 Minute to
Win It Games
Kids Party Ideas and Birthday Themes
Over 200 Birthday Party Themes for Children's Parties
The first place to start when planning a birthday party is with a birthday party theme.

The theme will weave itself through the party and tie it together.

When selecting a theme first ask what your child would like - do they have a favorite character, sport, interest or dream that would make a fun party theme?


We've compiled all of our favorite do it yourself theme party ideas for kids, tweens and teens ages 1, 2, 3, 4, 5, 6, 7, 8, 9, 10, 11, 12, 13, 14, 15, 16, 17 years old. Each party theme is complete with free, budget friendly ideas for boys and girls birthday party invitations, decorations, games, activities, food, party favors and goody bags.

Kids Party Themes
Use these fun ideas for birthday party themes to get the party started!

Themes are in alphabetical order.
12 Days of Christmas party theme
1960's party
1970'party
1980'party
A - Party Themes
Acorn
Alice in Wonderland
American Idol
Angry Birds
Animal Shelter Helper
Art
Avengers

B - Party Themes
Backwards
Ballerina
What are your favorite themed party ideas? Send them in and we will add them to the website!