Birthday Party Ideas 4 Kids

Home
Birthday Themes
170 Birthday Themes
1st Birthday Ideas
Pool Party Ideas
Teen Ideas
Tween Ideas
Twins Party Themes
Party Games
1st Birthday Games
2 , 3 and 4 years old
5 and 6 year olds
7, 8 and 9 year olds
Boys Party Games
Girls Party Games
Icebreakers
Party Games
Pool Party Games
Scavenger Hunts
Tween Games
Sleepovers
Sleepover Ideas
Slumber Party Games
Homemade Spa Recipes
Truth or Dare Questions
Boys Sleepover Ideas
Scavenger Hunts
All with FREE item lists!
8 Mall Scavenger Hunts
Scavenger Hunts
Party Ideas
Party Venues
Birthday Tips
Candy Buffet Tips
Goody / Loot Bags
Invitation Ideas
Party Favors
Menu Ideas for Parties
RSVP Help

Birthday Activities
Birthday Party Activities
Birthday Crafts
Craft Recipes
Bubble Activities
Sidewalk Chalk Games
Water Balloon Activities
About
Contact
Directory
Share Your Party Ideas
Sitemap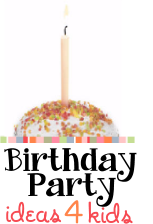 Wrestling Birthday Theme
Fun ideas for a kids Wrestling Themed Birthday Party.
Choose the best ideas that will make your Wrestling party unique.
Wresting Invitation Ideas
Send out black and red invitations with the wresting logo on them, or simple plain invitations with the following verse:
Let's get ready to rummmmmbllllllle!
Match date: ___________ (date)
Arena: ____________ (address)
Round one: _____________ (time)
Match over: _____________ (end time)
RSVP to the trainer: _________ (parent)
Decorations
Decorate the main table like a wresting ring. Two large ropes hung across the front. Use a white or black
tablecloth and sprinkle red confetti or Wresting logos printed on the computer and cut out. Black, white and red helium balloons around the room and also tied onto the mailbox to show everyone where the party is located.


Fun Ideas
Before the party come up with wresting names for each of the guests. Make shirts for them with their wresting names or large stickers that they can wear throughout the party.


Games
Check our games page for lots of fun
games to play at parties
Activities
When guests arrive give them their wresting names and then let them use face paint to create their own wresting persona. Set out bandanas they can make into do rags, sweat bands, wigs, hats, glasses .... anything that they
could use to make themselves look like a wrestler.

If you have a trampoline with a net you could decorate it like a wresting ring and have mock wrestling matches (make sure a parent is there to referee!). Make up a large wrestling belt that the winner can take home as a prize.



T-shirts


Let the guests decorate their own t-shirts with their wrestling names. Have "I survived Bobby's party" already
printed on the back for fun.


Wrestling Party Favors


Head bands
Large belts
Wrestling trophies
Arm bands
Do Rags

Goody Bags
Colorful paper sacks tied with rope
Chinese takeout boxes - print out the Wrestling logo and paste on the front of the box

FROZEN
Birthday Party Ideas!
Unique games, activities, icebreakers, decoration ideas, party favors and more!
Birthday Quotes, Wishes, Poems, Sayings and birthday wishes for birthday cards
Great ideas for a party including kids birthday games, birthday themes, decorations, themed parties, invitations, themed party favors, sleepover ideas, birthday party RSVP help, party ideas for kids birthdays, scavenger hunts, bday party themed activities.
Games at a party are easy with our pary theme pages - each page has many to choose from and there are also party games listed by age catagory - 1st birthday, games for 2, 3 and 4 year olds, 5 and 6, 7, 8 and 9 years old and a tween page too.
Birthday party ideas for a fun kids, tween or teen celebration!
© Kelula 2007 - 2014