Birthday Party Ideas 4 Kids

Home
Birthday Themes
175 Birthday Themes
1st Birthday Ideas
Pool Party Ideas
Teen Ideas
Tween Ideas
Twins Party Themes
Party Games
1st Birthday Games
2 , 3 and 4 years old
5 and 6 year olds
7, 8 and 9 year olds
Boys Party Games
Girls Party Games
Icebreakers
Party Games
Pool Party Games
Scavenger Hunts
Tween Games
Sleepovers
Sleepover Ideas
Slumber Party Games
Home Spa Recipes
Truth or Dare Questions
Boys Sleepover Ideas
Scavenger Hunts
All with FREE item lists!
Mall Scavenger Hunts
Scavenger Hunts
Party Ideas
Party Venues
Birthday Tips
Candy Buffet Tips
Goody / Loot Bags
Invitation Ideas
Menu Ideas for Parties
Party Favors
RSVP Help

Birthday Activities
Birthday Party Activities
Birthday Crafts
Bubble Activities
Craft Recipes
Sidewalk Chalk Games
Water Balloon Activities
About
Contact
Directory
Share Your Party Ideas
Sitemap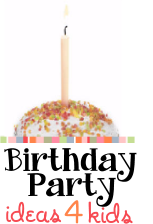 Camping Party Ideas
A Camping birthday party theme is a great birthday party idea for a child who likes the outdoors.

This theme and the games and activities can be used while camping in the forest, backyard or even inside.

We've also included a free Nature Scavenger Hunt List for a fun and educational game while the kid's are exploring the outdoors.
Camping Party Invitation Ideas

Print out party information on large labels and stick to one side of big chocolate bars. On the other side print out a label that says " ________'s (child's name) camping party will be Smore fun with you there!"
Print out the camping sign below and attach to blank note cards. Inside write the party information and then send to guests.

Print invitations on small cards and attach to plastic binoculars, tin cups, canteens or compasses.
Camping Party Decorations
Decorate the party in greens and browns. Print out several types of animal tracks from the computer and then cut them out and tape them to the driveway or walkway to the party.

Print out some of the camping symbol signs (below) and place them along the path to the entrance of the party and to designate areas of the camping party. If the party will be inside or under a covered area hang strings of lights around the ceiling to look like stars.
Tree balloons can be made by taping brown tissue paper in the shape of tree trunks on the walls and then attaching 3 colors of green balloons above it for leaves. Hang glow in the dark stars from the ceiling.

Set out tin cups with each campers name written in permanent marker at each place setting along with compasses, flashlights and/or binoculars. For a fake campfire pile logs on top of a battery powered lantern or paint the underside of pieces of wood orange and then stack on top of red and orange strings of small Christmas lights. Set up tents outside (or inside!) for the kids to sleep and play around. If you don't have tents you can make your own by stringing rope between two trees or posts and hanging a waterproof tarp over the rope. Spread out the sides of the tarp and secure to the ground.

Use these symbols that are seen at camping sites to designate different areas of the camping party.
| | | | |
| --- | --- | --- | --- |
| | Picnic Area | Fishing | |
| Food | Ranger Station | Rattlesnake Area | |
| Bear Watching | Campfires | Snack Bar | |
Camping Party Activities
Campfire
Before the party have an adult create a campfire. Bring out chairs or large logs for seating and place them at a safe distance around the fire. and roast marshmallows and hot dogs.



Decorate t-shirts


Decorate camouflage or plain t-shirts. Let the kids decorate with fabric paint and fabric paint pens. Or have shirts already printed with their names and they can embellish with rhinestones or paint pens.


Camping Party Games
Flashlight Hide and Seek
This game is best when played at night. The person who is "it" will need a flashlight. The person with the flashlight counts to 100 while the rest of the players hide outside. The player with the flashlight searches for the hidden players and when one is found they shine the flashlight on them and call out the players name. After this place in the game there are several variations:
1. "It" gives the flashlight to the person that was found and they are the new "it".
2. When found the players stay in a designated area (like a jail) until the round is over or they can be let out of the area if they are tagged by another player without getting caught.
3. "It" gives out flashlights to the ones found and they help find the others that are hiding.
The first person found is "it" during the next round.

Nature Scavenger Hunt
While it is still light outside send the party guests on a Nature Scavenger Hunt. See full instructions that includes a free item list to print out here :
Nature Scavenger Hunt
Candy Treasure Hunt
Before the party hide lots of wrapped candies all over the backyard or area where the party is being held. When it gets dark give each child a flashlight and tell them to search for the hidden candy. Provide sacks or bags for the kids to hold their treasure.
Fishing Game
Fun for an inside Camping party. Campers will fish for candy and toys from a pond that you make from a large box (you can also use a cardboard table with a sheet over it ... anything as long as the fishermen can't see what is in the water. Buy lots of wrapped candy and small Camping themed toys for the fish to give out. The fishermen put their fishing line (tie a string to one end of a bamboo pole or stick and a clothespin to the other end of the string) over into the water. The "fish" then place a prize on the clothespin and tug the line. The fishermen pull up the line with the toy or candy attached.
Rattlesnake Tag

Be careful and watch for rattlesnakes when you are camping! For this tag style game the kids hold hands to make a long rattlesnake. 1st in line is designated the rattlesnake head and the last is the rattle. Tell the players that during the game they can not let go of the hands they are holding. The rattlesnake's head mission is to tag the rattle ... sounds easy, but with all the players in the way (the rattlesnakes body) it gets crazy! Once the rattle has been tagged the rattlesnakes head becomes the tail. The next guest steps up and becomes the head. Play until each guest can be both the head and the rattle.


Party games for ages 7, 8 and 9 years old

Games for ages 5 and 6 years old

Games for ages 10, 11, 12
Camping Party Food Ideas
Smore's - chocolate squares, graham crackers and large marshmallows
Steamy cups of Hot Chocolate
Fire roasted Hot dogs
Roasted Marshmallows - before the party find lots of long skinny tree branches that can be used for roasting the marshmallows and hotdogs
Teddy Grahams

Bug Juice - there's sure to be bugs when you are camping ... but these are the delicious kind! The day before the party fill ice cube trays with water and a few raisins in each ice cube. The raisins look like bugs when frozen inside the ice cubes. Let the kids place them in their drinks and sodas at the party.
Camping Party Favor Ideas
Canteens
Flashlights
Glow in the dark items
Glow in the dark stars
Compass
Large chocolate bars with a printed label that say's "Thank you!"
A chocolate bar, pack of teddy grahams and marshmallows for a do it yourself Smore's kit
Teddy Grahams
Camping Loot / Goody Bag Ideas
Tin cups
Buckets
Small Tackle box
Baskets
Camouflage bandanas (wrap up party favors inside and tie)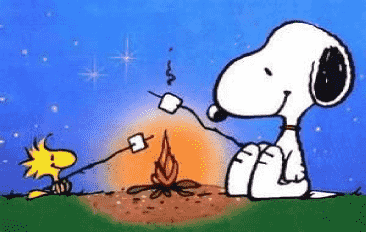 FROZEN
Birthday Party Ideas!
Unique games, activities, icebreakers, decoration ideas, party favors and more!
Birthday Quotes, Wishes, Poems, Sayings and birthday wishes for birthday cards
---
Great ideas for a party including kids birthday games, birthday themes, decorations, themed parties, invitations, themed party favors, sleepover ideas, birthday party RSVP help, party ideas for kids birthdays, scavenger hunts, bday party themed activities.

Games at a party are easy with our pary theme pages - each page has many to choose from and there are also party games listed by age catagory - 1st birthday, games for 2, 3 and 4 year olds, 5 and 6, 7, 8 and 9 years old and a tween page too. Over 175 boy themed and girls themed parties. Birthday party ideas for a fun kids, tween ( 10, 11, 12 years old ) or teen (
13, 14, 15, 16, 17, 18 year olds ) celebration!
© Kelula 2007 - 2014