Home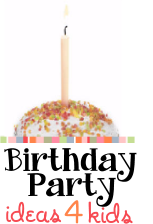 New York City




Party Ideas

New York City birthday party ideas for girls, boys, kids, tweens and teens!

The best ideas to make a New York City party special for all the guests.
Invitation Ideas
New York themed cards with pictures of the Statue of Liberty, Brooklyn Bridge, Times Square or simply I ♥ NY on the front and fill in the party information inside.

Make cards from city or subway maps of New York City - cut pieces that will fit a blank note card and paste map on the front of the card.

Attach a tag with party information to a plastic apple and pass out to guests.

Buy New York City postcards and write party information on the back for guests.

New York City Party Decorations
Hang up maps of New York City around the party area and/or use to cover the party tables. Look for maps of the city, subways or the state of New York with New York City highlighted. Hang up signs that say I ♥ NY around the party area. Make skyscraper buildings from black poster board or wrapping paper and paint on small rectangles for the windows then hang around the party area or use as a photo background.

Place small skyscrapers or Statue of Liberty pieces on the party table as centerpieces.

Fill gold and silver bowls with red apples for the tables.

Hang strings of lights in the party area and add some Broadway billboards and signs.

Make a New York Skyline by covering large boxes with black paper and stacking them on top of each other to make the individual buildings.

Use glow in the dark paint for the windows of the buildings.
New York City Party Games
Taxi Cab Treasure Hunt
Before guests arrive hide yellow plastic Easter eggs ( or yellow cut-outs of taxi cabs) around the party area. Assign each taxi cab a different number - write it on the cab with a permanent marker. Buy small prizes or candy that correspond to the numbers on the taxi cabs. Hide the cabs around the party area and then have kids search for the cabs. After they all have been found let them turn them in for the prizes that match the items they find. You could also hide plastic apples, small statue of liberties, or any item with a New York theme.
Broadway Show
Set up a Karaoke machine and let the kids take turns singing Broadway hit songs. Set out a box full of props they can use while singing such as feather boas, top hats, large jewelry, tiaras, etc.
Bobbing for Apples
Take a bite out of the Big Apple with a Bobbing for Apples game. Fill a large tub with water and place apples inside the tub. One at a time the guests will try and grab an apple with their mouth.
Pass the Big Apple
Separate the party guests into two teams and give each team a large red apple. Have the teams stand in a line. The object of the party game is to have them pass the apple to each other by placing it under their chin and then the next person in line takes it from them using their chin.
Play the board game Apples to Apples
This is a favorite game of all the kids I know. A great game to play while you are waiting for guests to arrive or at the end of the party while waiting for parents to arrive.
Party games for ages 7, 8 and 9

Party Games for 5 and 6 year olds

Birthday games for ages 10, 11, 12

See our party games pages for more fun birthday party games
New York Party Food
Hot Dogs with all the fixings
Large soft pretzels
Large slices of Pizza
Champagne glasses filled with sparkling cider
New York Party Favors
Statue of Liberty
Apple lip gloss or lotion
I ♥ NY t-shirt

New York Goody Bags
Yellow Chinese take out boxes - tie with a black and white checkered ribbon
Yellow paper bags tied with a black and white checkered ribbon
Red bag or small boxes tied with a green ribbon
Any color of paper bag with a picture of the New York skyline, Statue of Liberty or any New York landmark glued to the side of the bag

---
Great ideas for a party including kids birthday games for boys and girls, decorations, invitations, birthday themes, themed party favors, sleepover ideas for boys and girls, fun ideas for birthday party planning, bday party themed activities ,scavenger hunts and real simple and cheap
birthday party ideas for kids! Let us help you plan your next birthday party at home!
Good birthday party ideas for kids, tweens and teens ages 1, 2, 3, 4, 5, 6, 7, 8, 9, 10, 11, 12, 13, 14, 15, 16, 17 and 18 years old
.

© Kelula 2007 - 2015