Birthday Party Ideas
4 Kids
Home
Themes
Birthday Themes
1st Birthday Ideas
Pool Party Ideas
Teen Ideas
Tween Ideas
Twins Themes
Party Games
1st birthday
2 , 3 & 4 year olds
5 and 6 year olds
7, 8 & 9 years old
Boys Games
Girls Games
Icebreakers
Party Games
Pool Party Games
Tween Games
Sleepover Games
Slumber Party
Spa Recipes
Truth or Dare
Boys Sleepovers
8 Mall Hunts
Scavenger Hunts
Party Ideas

Birthday Tips
Candy Buffet Help
Goody Bags
Invitation Ideas
Party Favors
Menu Ideas
RSVP Help
Activities
Party Activities
Craft Recipes
Bubble Activities
Sidewalk Chalk
Water Balloons
Contact
Share An Idea
About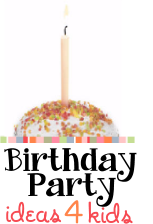 Teen Party Ideas & Themes
Teen party ideas - birthday party ideas for teenagers that are fun but a little more grown up.

Any combination of these will make for a great teen party for teenagers 13, 14, 15, 16, 17 or 18 years old!
Sweet 16 Party Ideas
Sweet 16 Party Themes
Sweet Sixteen Songs
for sweet sixteen birthday parties and Sweet 16 Lyrics


Teen Icebreakers
to get the party started
Teenage Pool Party
Fun swimming pool party theme ideas for teenagers - complete party planning ideas with decoration, invitations, games, party favor and activity ideas for teen pool parties.
Pool party ideas


Minute To Win It Theme
Let the party guests compete with these fun Minute to Win It style party games! There are 35 fun and challenging games to choose from - all are easy to set up and use common household items. Set up game stations and give out prizes for the winners! Make this your Teen party theme or incorporate them into your birthday theme.

Teenage Minute to Win It Party Games
Teen Mystery Dinner
Crazy and fun! The teens are served a crazy dinner - and the fun is they don't know exactly what they are ordering until it comes out of the kitchen. By the third round they have started to figure out the clues and finally get something to eat. Sample menus and complete instructions for a
mystery dinner party
.
Teen Hotel Shopping Stay
Choose a large hotel that is next to, adjacent or very close to a large shopping mall. Give the girls, usually 2-3 girls plus the birthday girl, each a little money in a pretty coin purse or wallet so they can shop the mall. Eat the birthday dinner at a restaurant inside the mall then after shopping and dinner swim in the hotel pool. Set up fun teenage mall scavenger hunt as a little game as the teenagers shop. There are 8 different mall scavenger hunts complete with instructions and free item lists to print out. Our favorite among teens is the Freebie Mall Shopping Spree ... a free list of over 40 items the teenagers can collect that are all free at the mall.
Restaurant
Take them to a nice restaurant
or for m
ore fun a Japanese steakhouse where they cook the food in front of you, or reserve a private room in the restaurant.


Teen Music Videos
Borrow several video cameras and let the kids make crazy videos of themselves dancing, singing to karaoke or just being themselves! Edit and then make a DVD for each party guest.


Chocolate fountain

Simple idea, but teenagers love it! Set out long toothpicks and bowls of strawberries, marshmallows, fruit, graham crackers, Twinkies (our favorite!), rice krispie treats or anything that can be dipped in chocolate (which is pretty much everything!) This is fun, festive and a real treat! Just add music and dancing.



Grown up video game arcade

like Dave and
Buster's. Most have party plans and let the guests eat and get game coupons for a reduced price. Lots of fun for teens!



Scavenger Hunt




We've listed a variety of fun scavenger hunts for your birthday party. Traditional neighborhood scavenger hunts along with photo and video hunts also.

Free scavenger hunt lists







8 Great Mall Scavenger Hunt for Teenagers


Teens are set loose inside the mall to find items from their list. Many free scavenger hunts are listed - some use a video or digital camera. Our freebie shopping spree lists over 40 things you can find at the mall for free ... if you look hard enough! Free clues and lists are given for most of the hunts. Just print out and go!
More teenage party themes are on our birthday themes page.
Send in your party ideas - 13, 14, 15, 16, 17 or 18 year olds!

Great birthday ideas for a party including the best kids birthday games for boys and girls, birthday themes, fun
ideas for birthday party planning, scavenger hunts, decorations, invitations, themed party favors,
sleepover ideas for boys and girls and bday party themed activities that are real simple and cheap birthday party ideas for kids!

Let us help you plan your next birthday party at home!
Good birthday party ideas for kids, tweens and teens ages 1, 2, 3, 4, 5, 6, 7, 8, 9, 10, 11, 12, 13, 14, 15, 16, 17 and 18 years old.

© Kelula 2007 - 2016