Home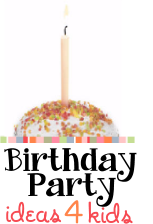 Cinderella Birthday Theme
Make her wishes come true with these fun and easy Cinderella themed birthday party ideas.
Invitations for a Cinderella Party





Print the Cinderella party information on pretty blue paper - 4 per page. Cut out and roll up like a scroll then secure with yellow or medium blue ribbon.


Buy cards that look like glass slippers and write the party information on the inside.

Write party information on pretty blue paper and roll up into a scroll ... then attach with a ribbon to a princess tiara. Ask the guests to wear the tiara to the party.

Make cards that look like a clock tower with the hands of the clock almost to strike 12 o'clock. Inside write the party information.

Buy or make cards from orange scrapbook paper and cardstock that look like a pumpkin carriage.

For more Princess party ideas that could be used with the Cinderella birthday party theme see our Princess party ideas page.
Decorations for a Cinderella Party
Outside the party venue decorate with light blue and yellow balloons. Have pumpkins lining the walkway to the party and hang paper birds in the trees with fishing line to look like they are flying low towards the party. Make the front door look like a castle and create a drawbridge from a large appliance box that guests have to walk over to get to the party. Make the drawbridge chains from strips of brown and black construction paper or buy large plastic chains at the home improvement store.
For the party table use a light or medium blue tablecloth with light blue or yellow plates, cups and napkins. Place glitter or silver confetti on the table (place a clear tablecloth over the table if the guests are younger then 3). Buy or make a horse and carriage and place it on the center table for a centerpiece. Party chairs can be made to look festive by tying tulle around the backs and then make a big bow at the back of each chair. Set out princess tiaras at each place setting or use to hold name cards. Instead of using paper plates (and if the children are old enough) use china or buy a cheap set of dishes that look expensive.
Decorate a room for the royal ball and place lots of blown up light blue, medium blue and white balloons on the floor. You will need enough to cover the floor. The princesses will love walking and dancing through the balloons.
Strings of lights can be used to create a fairytale feel by hanging them on the walls, in plants and trees and in the middle of the party table. If you have enough you can hang them everywhere and then turn out the lights and let the kids dance under the stars.
Cinderella Party Games
Castle Piñata
Buy or make a Cinderella themed piñata - a castle or glass slipper. Fill it with wrapped candies and small toys. To hit the piñata get an old broom stick and tell the party guests that it is Cinderella's old broom from when she lived with her step mother. Give each party guest a light blue bag and let them decorate it with Cinderella stickers and their name. They can use the bags to collect the candy and prizes.


Fairy Godmother Quick Change Game
Help Cinderella's Fairy Godmother dress her up for the ball. You will need two sets of clothes for this party game. 2 dressy dresses, high heel shoes, tiaras, wigs, a pumpkin, necklaces, clip on earrings, etc. and two clocks. Put the two sets of clothes on one side of the party room and the two clocks on the other side of the room. Separate party guests into two teams and have them stand behind their clock. The first person from each team will run to their pile of clothes, put them on (over their clothes), run back to their team and tag the clock (have it set at 1 minute to midnight) then back to the pile of clothes to take them off and back to their team where the next person in line will have a turn. Make sure the dresses are big enough to fit over the kids normal clothes.

Prince and Glass Slipper Chase
You will need a glass slipper or fancy high heel (Cinderella) and a blue ball (the Prince) for this game. Have the party guests sit in a circle and give Cinderella to one person and the Prince to the person opposite them in the circle. Tell them that on "go" they will start to pass the objects around the circle clockwise and they are trying to have the Prince catch Cinderella. They will pass both objects fast around the circle trying to both keep Cinderella ahead of the Prince and also trying to catch Cinderella. When the Prince catches Cinderella start again.
Royal Treasure Hunt for Cinderella's Shoe
Set up a fun treasure hunt with clues for Cinderella's shoe. Create a story about Cinderella (the most famous princess) and how she lost her shoe. Tell the children that the mice have left clues to where to find the lost shoe. Lead the princesses through the house with different clues until the last clue leads them to the lost shoe filled with candy, necklaces and prizes to share.
The lost shoe is easy to make …. Find a pretty high heel at a garage sale and spread glue all over the outside of it. Sprinkle on glitter to make it shine.
Cinderella Party Food Ideas

Chocolate fountain with sliced fruit, marshmallows and other food items to dip into the chocolate.
Sandwiches with the crust cut off and cut into triangles.
Pumpkin bread, pumpkin pie or other pumpkin dishes.
Sugar cookies cut into the shape of glass slippers or round cookies decorated to look like a clock almost to strike midnight.
Cinderella Party Favors
Watches set to just before midnight
Princess Tiaras
Clip on earrings
Cinderella necklaces
Play dress up heels
Pumpkin

Goody Bags
Pink or light blue bags tied with curling ribbon and a helium balloon attached.
Party games for ages 7, 8 and 9

Games for ages 5 and 6

Games for ages 10, 11, 12
---
Great ideas for a party including kids birthday games for boys and girls, decorations, invitations, birthday themes, themed party favors, sleepover ideas for boys and girls, fun ideas for birthday party planning, bday party themed activities ,scavenger hunts and real simple and cheap
birthday party ideas for kids! Let us help you plan your next birthday party at home!
Good birthday party ideas for kids, tweens and teens ages 1, 2, 3, 4, 5, 6, 7, 8, 9, 10, 11, 12, 13, 14, 15, 16, 17 and 18 years old
.

© Kelula 2007 - 2015