Birthday Party Ideas 4 Kids

Home
Birthday Themes
175 Birthday Themes
1st Birthday Ideas
Pool Party Ideas
Teen Ideas
Tween Ideas
Twins Party Themes
Party Games
1st Birthday Games
2 , 3 and 4 years old
5 and 6 year olds
7, 8 and 9 year olds
Boys Party Games
Girls Party Games
Icebreakers
Party Games
Pool Party Games
Scavenger Hunts
Tween Games
Sleepovers
Sleepover Ideas
Slumber Party Games
Home Spa Recipes
Truth or Dare Questions
Boys Sleepover Ideas
Scavenger Hunts
All with FREE item lists!
Mall Scavenger Hunts
Scavenger Hunts
Party Ideas
Party Venues
Birthday Tips
Candy Buffet Tips
Goody / Loot Bags
Invitation Ideas
Menu Ideas for Parties
Party Favors
RSVP Help

Birthday Activities
Birthday Party Activities
Birthday Crafts
Bubble Activities
Craft Recipes
Sidewalk Chalk Games
Water Balloon Activities
About
Contact
Directory
Share Your Party Ideas
Sitemap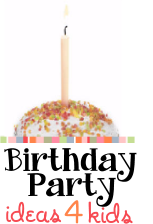 Fishing Birthday Party Ideas
Fishing birthday party ideas and party planning help for a Fishing party for kids.



Fishing Birthday Party Invitations



Make small fishing poles out of 12" dowels by tying string onto one end and attaching a paperclip or clothespin to the other end. Clip your invitation to the paperclip or clothespin. Cut fish shapes from cardstock and decorate with paint or markers.




Make message in a bottle invitations using clean / clear water bottles. Place a little sand and a few shells in the bottle and then roll up your invitation and place it inside. Decorate the outside with paint or permanent markers.


Fishing Theme Decorations
Blue and Green balloons and streamers. Hang varying length pieces (1 foot to 1 1/2 feet pieces) of light and medium blue streamers from the ceiling to look like you are under the water. Hang different sizes of fish within the streamers.
Cover the tables with blue tablecloths - cut a wave pattern (scalloped edge) at the bottom of the tablecloths if you are using cheap plastic or paper tablecloths. Layer different colors of blue to look like waves.

Decorate the walls with fishing nets, rods, reels, and tackle boxes.

Place shells and plastic lobsters and starfish on the food table.
Fun Ideas for a Fishing Theme Birthday Party




If there is a local lake or pond near your home take the birthday guests fishing. You will need a few poles and bait. Take along a picnic lunch to eat at the lake.





Bring buckets for each child to collect items from around the lake - you can make a nature scavenger hunt for the children to do when they are waiting for a turn to fish.

Nature Scavenger Hunt list



Fishing Party Games




Target Fishing




Set out targets on the lawn such as hula hoops at different lengths from where the kids will stand for the game and see who can cast their line and hit the targets.

Instead of hula hoops set out buckets and see who can cast their line into the buckets.

Dig for bait


Find a great place that has lots of worms and let the kids dig for their own bait. Give each child a plastic container with a lid (that has small holes punched in the top) to hold their bait. Let them take it home for future fishing outings or use it during the party if you will be fishing.

Party games for ages 7, 8 and 9 years old

Party Games for 5 and 6 year olds

Birthday games for ages 10, 11, 12

See our huge list of

birthday party games for kids parties





Swimming Pool Games


If you will be swimming during the fishing party try our fun Swimming Pool Games

Party Food


Fish crackers




Swedish fish




Crock pot of "bait" - hotdogs in bbq sauce. Cut the hotdogs lengthwise in 5 - 6 pieces. When they cook they will curl up and look like worms.


Dirt cups - chocolate pudding in cups topped with crushed Oreo cookies and gummy worms.
Sandwiches made from Pepperidge Farm fish shaped bread.
Fish sticks
Make a candy buffet using different sizes of fish bowls - fill with blue candies for water, Swedish fish, gummy worms, etc.



Fishing Party Favors




Swedish Fish




Goldfish crackers




Sponge Bob Candies




Small toy magnetic fishing pole games




Fish stickers





Goody Bags




Small tackle boxes




Fishing nets




Boat shaped boxes or bags




Fishing hats




FROZEN
Birthday Party Ideas!
Unique games, activities, icebreakers, decoration ideas, party favors and more!
Birthday Quotes, Wishes, Poems, Sayings and birthday wishes for birthday cards
---
Great ideas for a party including kids birthday games, birthday themes, decorations, themed parties, invitations, themed party favors, sleepover ideas, birthday party RSVP help, party ideas for kids birthdays, scavenger hunts, bday party themed activities.

Games at a party are easy with our pary theme pages - each page has many to choose from and there are also party games listed by age catagory - 1st birthday, games for 2, 3 and 4 year olds, 5 and 6, 7, 8 and 9 years old and a tween page too. Over 175 boy themed and girls themed parties. Birthday party ideas for a fun kids, tween ( 10, 11, 12 years old ) or teen (
13, 14, 15, 16, 17, 18 year olds ) celebration!
© Kelula 2007 - 2014