Beach Birthday Theme
Beach Party Ideas for your next Birthday Party!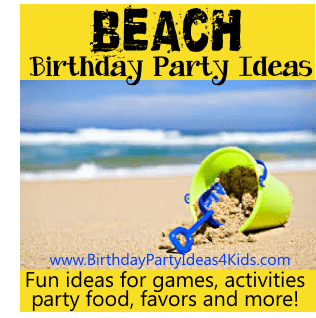 Fun Beach theme party ideas including ideas for party invitations, party decorations, beach party games, party food, party favors and many other great ideas for a kids beach party!
Beach ball party supplies from Amazon
Beach Birthday Party Invitations
Beach Ball Invitation
Buy small blow up beach balls and blow them up. Using a black permanent marker write the party information on the beach balls. Give out the beach balls to party guests blown up or flatten and send in the mail.
Invitation in a Bottle
You can buy kits to make invitations in a bottle or make them yourself by recycling small water bottles. Take the label off of the bottle and fill with 1/2 cup of sand. Print out party details on sheets of paper - 4 to a sheet.

Cut the invitations out and then roll up and tie with a colorful ribbon. Put party information inside the bottle and seal.
Seashell Invitation
Buy large seashells that have a flat side and write the Beach party details on the shell using a black marker.
Beach Party Decorations
To get the party guests ready for the party put down some sand and seashells on the path leading to the Beach party. Hang life preservers from tree branches outside the party venue. Tie long beach towels or beach towel printed fabric around the trunks of trees and hang on the front door.
Large beach towels can be used for tablecloths as an easy way to make the beach party look festive. Hand beach towels around the party room or drape them over the chairs at the party table. Give them out as party favors.
Old swimming trunks or Hawaiian shorts can be used to make plant containers festive ... simply place the trunks around the container and tie rope at the top of the pot to make it stay.
To hold helium balloons fill sand pails with sand or rocks and then tie the balloon strings to their handles.
Put sand and seashells on the party table or fill tall glass containers with sand and seashells and arrange in the middle of the table.
To chill drinks for an outside beach party fill a wading pool with ice and place the drinks among the ice to chill.
Use bright colored sand pails to hold chips, dips, crackers and pretzels. They also can hold forks, spoons and napkins. Use the sand shovels that come with the pails as serving spoons.
Fun Beach Party Ideas
Set up a backdrop with a beach / surf scene. Buy one that looks like the ocean background or make your own with a few blow up palm trees and a blue sheet hung up for a background. Borrow a surf board, or cover your ironing board to look like a surf board and let the kids take pictures posing in front of the surf on the board.
Beach Party Games
Buried in the Sand Treasure Hunt
Fill a small swimming pool with sand and then bury small treasures such as pretty rocks, seashells, fake jewels and large plastic coins. Give the party guests sand shovels and sifters to find the buried treasure in their "beach". Let them take the treasure home as a party favor.

Beach Ball Icebreaker
Play when party guests are arriving and especially if some guests don't know each other. The beach ball icebreaker asks silly questions that the guests have to answer about themselves. Before the party blow up a large beach ball and with a permanent marker write questions on the ball. Fill up the whole ball so there aren't any blank areas. Then when guests start to arrive at the party have them sit in a circle (or they can stand) and throw the ball back and forth to each other. When someone catches the ball they must answer the question that is underneath their left thumb.

The questions can be anything ... here are some samples:
Favorite ride at the amusement park? Have you ever been to
the beach? What ocean animal would you like to be? Winter or Summer? Have you every been surfing?
Sand Castle Relay
To play you need two kiddie pools filled with sand, water and some plastic sand castle molds (butter tubs, rectangular plastic containers or bowls will also work). Teams try to build the tallest sand castle in the time permitted. On "go" have one child (from each team) run to the sand and make a mold of a sand castle piece. They return to their teammates and the next child in line takes a turn. Keep going until the time runs out. Whichever team has the tallest sand castle in 5 minutes wins a prize. Play several rounds.
20 of the best games that use a Beach Ball to play! Fun and unique and great for kids, tweens, teens of all ages!
20 Fun Games that use a Beach Ball!
More fun beach party games that include a swimming pool - swimming pool party games
Birthday Party Games for 5 and 6 year olds


Party games for ages 7, 8 and 9


Birthday games for 10, 11, 12 years old
Beach Birthday Theme Activities
For older children give them each a beach ball and let them blow it up and put their name on it. Give them permanent markers to sign each others beach ball.
Decorate a picture frame with small beach sea shells and jewels. Beach sand art projects - either bottles or pictures.

Make Funky Flip Flops ... directions for our flip flop craft
Beach Party Food Ideas
Macaroni and cheese using the Shells pasta - serve in large conch shells.
Goldfish crackers in sand pails - use sand shovels as serving spoons.
Fill small clear plastic cups with blue Jell-O so it looks like water then add Swedish fish candies.
Fill small clear plastic cups with vanilla pudding. Sprinkle crushed graham crackers on top for "sand". Place teddy grahams on top and finish with a small cocktail umbrella.
Fruit kabobs - skewer pieces of cut up strawberries, pineapples and bananas on pretzels.
Instead of cake make cupcakes. Frost ½ of the top blue for the water and ½ light brown for the beach. Place a teddy graham laying down on a piece of fruit roll up - like the teddy is sunning himself on a beach towel. Add a small cocktail umbrella and a lifesaver gummy candy in the "water".
Beach Birthday Party Favors
Small individually wrapped packages of goldfish crackers
Swedish fish candies
Blow up beach balls
Sunglasses
Flip flops
Sand art
Life Savers
Pixie Sticks (sand!)
Gummy Sharks
Beach Birthday Party Goody Bags
A sand pail and shovel make the perfect goody bag to hold the children's beach party favors.
Treasure chests made from wood or paper are a fun goody bag idea.
Blue bags tied with white curling ribbon.