Birthday Party Ideas
4 Kids
Home
Themes
Birthday Themes
1st Birthday Ideas
Pool Party Ideas
Teen Ideas
Tween Ideas
Twins Themes
Party Games
1st birthday
2 , 3 & 4 year olds
5 and 6 year olds
7, 8 & 9 years old
Boys Games
Girls Games
Icebreakers
Party Games
Pool Party Games
Tween Games
Sleepover Games
Slumber Party
Spa Recipes
Truth or Dare
Boys Sleepovers
8 Mall Hunts
Scavenger Hunts
Party Ideas

Birthday Tips
Candy Buffet Help
Goody Bags
Invitation Ideas
Party Favors
Menu Ideas
RSVP Help
Activities
Party Activities
Craft Recipes
Bubble Activities
Sidewalk Chalk
Water Balloons
Contact
Share An Idea
About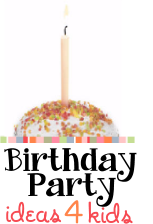 Twins Party Themes




Birthday party themes for twins

Fun and unique party and theme ideas that are especially made for twins birthdays.

The twins birthday party themes are all complete with ideas for party decorations, birthday games and activities, invitations, party favors, food and goody / loot bags.

Make each twin feel special on their birthday with these twin party themes.

For more birthday party themes see our birthday themes for kids page.

---
Party games just for girls - Girls birthday party games
Party games for boys only - Boys birthday party games
Party Games for all ages - Birthday Party Games
---
Great birthday ideas for a party including the best kids birthday games for boys and girls, birthday themes, fun
ideas for birthday party planning, scavenger hunts, decorations, invitations, themed party favors,
sleepover ideas for boys and girls and bday party themed activities that are real simple and cheap birthday party ideas for kids!

Let us help you plan your next birthday party at home!
Good birthday party ideas for kids, tweens and teens ages 1, 2, 3, 4, 5, 6, 7, 8, 9, 10, 11, 12, 13, 14, 15, 16, 17 and 18 years old.

© Kelula 2007 - 2016