Pink Flamingo Party Ideas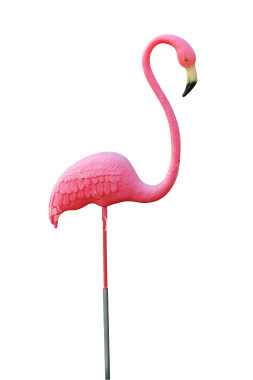 Create a fun and festive birthday party using a Pink Flamingo theme! Great for summer or pool parties ... or anytime you want to celebrate!
Flamingo party supplies
from Amazon
Pink Flamingo Invitation Ideas
On plain pink note cards glue pink feathers (boa type) on the top of the card. Cut out flamingo legs and paste onto the cards front - you could also use pink pipe cleaners for the flamingo legs.
Pink and green (or orange!) striped or polka dotted note cards. Embellish with feathers.
Pink Flamingo Party Decoration Ideas
Decorate the Flamingo party in pinks and greens or pinks and orange. Solid pink table cloths or pink and green/orange polka dotted or striped table cloths look summery and bright. Attach pink with white and green helium balloons onto the mailbox. Cut out Flamingo footprints from construction paper and tape them down along the party walkway - you can also draw the footprints with chalk. Place a flock of plastic pink flamingos in the front yard (these can be used later for games).
Place pink feather boas on party tables or at each place setting if you are giving them away as party favors.
Pink strings of lights can be hung around the room and party tables.
For more ideas see our
Luau
and
Beach party themes
Pink Flamingo Party Activities

Funky Flamingo Flip Flops
Let the kids make funky flamingo flip flops with pink and green / orange colored fabrics. See complete directions on our Flip Flop Craft page.
Flamingo Tutu's
Make pink tutu's easily by cutting pink tulle into 4" x 3' strips and tying it onto wide pink ribbon or elastic. See our easy no sew Tutu tutorial with step by step directions - Tutu guide
Pink Flamingo Party Games
Flamingo Ring Toss
Set up several plastic flamingos at different distances from the "throw line". Buy or make (from large plastic lids - cut the center out of the lid so you have a ring) 5 or 6 large rings for the kids to throw onto the flamingos necks. Have the guests line up behind the "throw line" and one by one try and ring the flamingos necks. Give different point values to each flamingo. Add up the total score and give prizes to the highest scores (and small prizes to everyone who plays).
Pink Flamingo Scavenger Hunt
Look for only pink things on a scavenger hunt.
See the Scavenger Hunt rules and directions.
More party games are on the Girl's Games for Parties
and Party Games pages.

Party games for ages 7, 8 and 9


Party Games for 5 and 6 year olds

Birthday games for ages 10, 11, 12
Pool Party Games for Kids - Pool party games
Pink Flamingo Party Food
Large marshmallows with sprinkles on skewers (dip marshmallows in water, shake off the excess and roll in pink sprinkles and stick onto skewers. Serve in a pink jar or container. )
Cupcakes or cookies with pink sprinkles
Strawberries dipped in chocolate or set up a chocolate fountain.
Sparkling cider served in pink plastic champagne style glasses
Pink Flamingo lemonade
Cotton candy served in orange or lime green cones
Pink Flamingo Party Favors
Polish for nails
Pink fluffy cotton candy
Feather Flamingo boas
Goody Bag Ideas
Pink paper bags with pink feathers hot glued on the top

ink bags or boxes tied with pretty pink ribbons