Bowling Party Ideas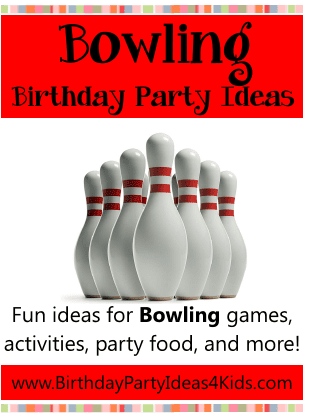 Fun Ideas for a Bowling Birthday Party
Bowling parties for kids can be lots of fun - here are some ideas to make them even better! To make bowling even more fun try some of the unique games listed to play on the lanes while the kids are bowling- try a different game during each round of bowling.
We've included FREE print-outs of the games Bingo Bowling and You Must Bowl. Follow the links that are listed under the Bowling game directions below.
Bowling party supplies from Amazon


Bowling Party Invitations
Buy a set of inexpensive plastic toy bowling pins. With a permanent marker write the details of the birthday party on the pin. Hand out to party guests.

Cut bowling balls out of black construction or cardstock paper. Leave the top of the circle connected to make a card. Decorate with white paint pens by drawing three small circles in a triangle shape to symbolize the holes in the bowling ball. Write party information inside with a white paint or gel pen.

Tip: If you are having the birthday party at a bowling alley tell guests on the invitation to arrive 15 minutes before your bowling time is to begin. This is will give everyone a chance to find a ball, pick out and put on bowling shoes, and get ready to start. This will save all the bowling time you've paid for for actual bowling.
Bowling Party Decorations
Great colors for decorating bowling parties are red, white and black (pins, bowling ball and red stripes on the bowling pins). Cover the tables with red plastic tablecloths. If you can't find bowling themed tableware use white or black plates (bowling balls).
Tie helium balloons in red, black and white to the chairs or use as a centerpiece. Black balloons can be made to look like bowling balls by making three white circles with a paint marker. Tie the balloons to plastic bowling pins (you can find these in the toy store) for a great centerpiece. (Depending on the weight of the bowling pins you may need to weigh them down. Drill a small hole in the bottom of the pins and fill 1/4 full with sand. Place tape over the hole.)
Fun Ideas for a Bowling Party

Bowling Awards
Create awards to hand out after the bowling party. The bowling awards can be a small trophy or a paper certificate. Keep track of the bowlers during the party and assign each guest to a funny bowling award. Have an awards ceremony during ice cream and cake and hand out the awards.

"Strike it Rich" award for the most strikes - cash, gift card or trophy filled with dollar bills.

"Spare Change" award for the most spares during a game - change purse or bank filled with coins.

Highest Score- tall trophy

Lowest Score - short trophy

Most Dangerous Bowler (given to someone who accidentally throws the ball backwards toward the crowd)

Gutter Ball Award - to the bowler with the most gutter balls - sunglasses or bowling towel to hide their head.

Slowest Ball - For the slowest bowler, or slowest ball down the lane - plastic or stuffed turtle.

Fastest Ball- for the fastest bowler or fastest ball down the lane - plastic or stuffed rabbit.

Closest to the Mark - decide on a number before the game starts, say 75, and the bowler closest to that number wins - trophy or a small darts set.

Bowling Party Games

To entertain younger children while they are waiting for their turn to bowl try these fun games:
Bowling Bingo
Players use Bowling Bingo cards to keep track of the bowler's scores. The first one to cover squares in a row either horizontally, vertically, or diagonally wins!
Print - 2 to a page - a square divided into 25 smaller squares. In the middle square write in the word "FREE".
In the squares write in different things that can happen during a typical game. On each card mix up the items so that all the cards are different. Use bowling theme stickers or colored dots as markers. Whenever something happens that is written on the card during the game the children mark off that square. The first one with 5 across, down or diagonally shouts out BINGO and wins a small prize.
Here are some ideas to put in the Bingo squares:
strike, spare, 7 - 10 split, gutter ball left side, gutter ball right side, pin # 7 only, pin #10 only, 2 pins down, 3 pins down, 4 pins down, 9 pins down, 2 strikes in a row, super slow ball, super fast ball, strike in another lane, score 40 points, score 70 points, 5 pins down, 6 pins down, 7 pins down, 8 pins down, gutter, gutter, spare, strike.
Here is a sample of a Bowling Bingo card you can copy and then change the order of the items.
Frame by Frame Bowling Game
A fun way to liven up the bowling game is to assign a specific way the kids must throw the ball during each round. Make up the list before the party and at the beginning of each frame tell the guests how they must throw their ball. Here are some fun suggestions:
1. Bowl granny style (two hands - pushing the ball)
2. Bowl using your left hand
3. Chicken bowl - cluck like a chicken while you throw the ball
4. Bowl backwards through your legs
5. Bowl while using only one leg
6. Tunnel Bowl through the legs of 4 birthday guests
7. Sit on the floor to bowl
8. Pretend you are the birthday child
9. Slow motion bowl
10. Light's out - Bowl with your eyes closed (or blindfolded)


You Must Bowling Game
Before the party write down as many crazy ways to bowl as you can think of - cut the ideas into strips and place them in a hat or container. During one of the rounds of bowling have the guests choose a piece of paper and they must bowl their two frames by doing the action that is on the paper. Some fun ideas are: Act like a frog, Act like a ballerina, Frankenstein walk ... and many more. Once the guests have gone through all the ideas place them back in the container and use them again.
Here are 25 fun ideas for "You Must Bowling Game" that you can print out.
Shout Out
Choose a category and have the bowler call out as many items in that category as they can think of by the time the bowling ball hits the pins. Use the same category or a different one for each bowler during their frames. Some fun examples are to Shout Out:
Farm Animals
Candy
Numbers counting backwards from 300
Fast Food Items
Rock Stars
Baseball Players (or any sport)
Flavors of Jelly Beans
States in America
Foreign Countries
Things in a bowling alley
Reasons why you're a great bowler
Colors
Party Games for 5 and 6 year olds

Party games for ages 7, 8 and 9

Birthday games for 10, 11, 12 years old
Bowling Party Food
7 - 10 banana splits
Pizza
Hot Dogs
Cupcakes arranged into a bowling ball or pin
Nachos
Hamburgers

Bowling Party Favors
Plastic bowling pins
Small bowling sets
Coin purses with "spare" change
A few game tokens if the bowling alley has an arcade
Free or reduced bowling passes
Bowling towel
Gumballs
Goody Bags

Small coin purses or bags with handles that look like bowling bags

Bowling related cups or bags to hold party favors