Home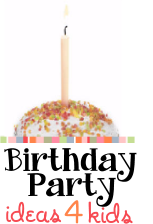 Little House on the Prairie Birthday Party Ideas
Little House on the Prairie Birthday theme ideas including ideas for Little House invitations, decorations, games, crafts, food and favors.





Step back in time and celebrate like Laura and Mary would have years ago with these fun and unique birthday ideas.

Little House on the Prairie Invitation Ideas
Quilt Invitation - Decorate plain note cards with squares of scrapbook paper glued on the front in a quilt pattern.
Quilt blocks
- in the invitation send a 6" x 6" (or whatever size you choose) square piece of fabric and ask the guest to decorate the fabric and also put their name on it. Ask them to bring it with them to the party. During the birthday party let the guests sew together their fabric squares to make a starting quilt for the birthday child.
Little House Decorations
Decorate party tables (picnic tables work great!) in blue and white gingham table cloths.

Place artificial wildflowers in glass or metal containers on the table - tie a pretty ribbon around the vases.

Decorate with fun "old west" items such as wagon wheels, hay bales, old lanterns, covered wagons, etc.

At each place setting put a tin cup (find them at outdoor stores in the camping section) and put the tableware and napkin inside tied with a gingham ribbon.

Hang brown butcher paper on the walls and draw "logs" with a marker.
Little House on the Prairie Activities




Hayride


Take the birthday guests on a hayride. If you do not have access to a trailer you can fill the back of a pickup or large wagon with hay.



Pony Ride or Petting Zoo


Let children experience animals that Laura and her family would have had on the farm.

Campfire - If the party will be during the evening a campfire is a great treat for children. Roast hotdogs and make smores.


Make homemade ice cream - Let the party guests make their own ice cream for the party . Check videos on Youtube.com for several different ways to make homemade ice cream - they have instructions for making it in a blender, plastic bag and coffee can.
Little House Crafts
Paper Dolls - Print out free paper dolls from the internet or buy several paper doll books ( a great book is "Little House Paper Dolls" - find it on Amazon) and let party guests play with them.
Make candles - there are great kits available that don't require melting of the wax.
Make necklaces - Set out different colored beads and string and let guests make their own necklaces.
Buy several small beginner cross stitch kits and teach guests how to cross stitch.

Little House on the Prairie Party Games
Jacks - Jacks are timeless and fun to play. Teach the party guests how to play -
Instructions and rules for playing Jacks.

Jump rope - Teach party guests how to jump rope several different ways -
Instructions and rhymes for jump rope

3 Legged Race - Divide party guests into teams of 2. When they are standing side by side tie their middle legs together. Then all the teams line up on the start line and race to the finish line. First team across wins a prize.
Party games just for girls - Girls birthday party games
Sleepover games - Sleepover / Slumber party games
Party Games for all ages - Birthday Party Games

Little House on the Prairie Party Foods
Fruit and cheese trays
Chicken Nuggets
Apple Pie
Homemade ice cream
Popcorn Balls
Roast Hot dogs
Homemade bread
Popcorn balls
Lemonade
Little House on the Prairie Party Favor Ideas
Tin cups
Stick candy
Jacks
Jumprope
Paper dolls
Bonnet
Apron
Marbles
Small blackboards with chalk
Wildflower seeds
Little House on the Prairie Goody Bags
Place party favors in a Tin Cup
Wrap a bandana or piece of calico fabric around party favors
Pretty basket with calico lining
Clay pot with a packet of wildflower seeds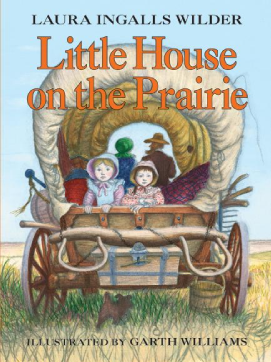 ---
Great ideas for a party including kids birthday games for boys and girls, decorations, invitations, birthday themes, themed party favors, sleepover ideas for boys and girls, fun ideas for birthday party planning, bday party themed activities ,scavenger hunts and real simple and cheap
birthday party ideas for kids! Let us help you plan your next birthday party at home!
Good birthday party ideas for kids, tweens and teens ages 1, 2, 3, 4, 5, 6, 7, 8, 9, 10, 11, 12, 13, 14, 15, 16, 17 and 18 years old
.

© Kelula 2007 - 2015