John Deere Party Ideas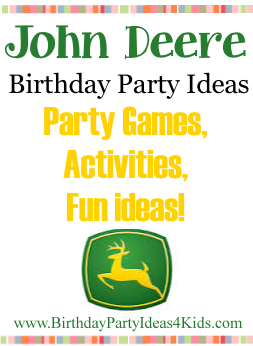 Ideas for a John Deere Tractor Birthday Party Theme


Ideas for John Deere theme invitations, decorations, food, activities, party games, goody bags and party favors.
John Deere Party Games
Hay Bale Obstacle Course
Set up a course in your backyard or the park using hay bales and other items such as swing sets, trampolines, slides, hula hoops, etc. Set up a course that goes over, under, around and through the area. You can set up teams to compete against each other or use a stop watch and time each of the party guests. When they have run through it a few times you can change it by having them run through it backwards, on their hands and knees or walking.
Needle in a Haystack
You need a large container full of hay, Styrofoam peanuts, raffia or shredded newspaper and something for the guests to find - the "needle" - such as small toys, candies or John Deere stickers on yellow paper. We do not recommend using a real needle or anything that is sharp and pointy. Hide the items in the container and let the party guest search for them. Give them a time limit and see how many they can find.
Water the Crops
Can be played in teams or individually. Guests try to be the first to fill up their water jug. You'll need a water jug for each team or individual (must be the same size and shape), sponge or plastic solo style cup for each team or player and a large water container where players can get the water for the game. Set the empty milk jugs near the teams. Set up a large water container across the yard and have them run back and forth from the water container to their jug to try and fill it up first.
Play as individuals or have teams switch off each round with another player. Sponges are fun and also plastic solo style cups with a few holes in the bottom are a great way to stay cool outside during the party!
Party games just for girls - Girls birthday party games
Party games for boys - Boys birthday party games
Party Games for all ages - Birthday Party Games
John Deere Invitations

Print out party information on note cards or postcards with the John Deere logo on the front and then wrap in a green bandana. Ask guests to wear the bandana to the party.

Cow cards can be made easily by drawing black spots on white note cards or by cutting out black circles from construction paper and pasting to the note cards
John Deere Party Decorations

The main colors for the John Deere party should be yellow and green with black accents.
Cover the party table in a green table cloth and use yellow plates (wheels) with black cutlery.
On the table place hay bales or John Deere tractors and tie green, yellow and black helium balloons to them.
Or you can place bright yellow sunflowers in mason jars (or glass vases) on the table and tie with a green bandana or ribbon.
Place black or green rocks, pebbles or marbles at the bottom of the container that holds the flowers.
John Deere party supplies from Amazon
John Deere Birthday Activities
John Deere Hayride
Take the birthday guests on a hayride. If you don't have access to a trailer you can fill up the back section of a pickup or large wagon with hay.

Petting Zoo or Pony Rides
are always fun and a wonderful way for children to experience animals up close.
Tractor Pictures
If you have a John Deere tractor or know of someone who does take pictures of the guests in the drivers seat. Print them out before the party ends for them to take home as a favor or include them in the thank you note.
John Deere Party Food Ideas
Set out small galvanized silver buckets with snack food such as chips, candies or fruit kabobs.
Pigs in a Blanket
Homemade Ice Cream
Apple Pie
Watermelon
Chicken Nuggets
Haystacks
Ingredients:
1 1/2 quart popped pop corn
1 cup chow mien noodles
12 ounces peanut butter chips

In a large bowl, combine the popcorn and chow mien noodles. Place the peanut butter chips in a microwave safe bowl; microwave on 50% power in 30 second increments until melted (stirring every 30 seconds).

Pour melted peanut butter chips over the noodles and pop corn. Stir to coat. Drop by spoonfuls onto a wax paper covered cookie sheet. Refrigerate until firm. Makes 15
John Deere Party Favors
Box of animal cookies/crackers
John Deere stickers or small tractor
John Deere Goody Bag / Loot bag ideas
Bandana - wrap the party favors up in a green bandana
John Deere cap
Green or yellow water bottle or cup
Jungle Party
Avengers
Bigfoot
Bounce House Help
Mario
Little Man
Lego
TMNT