Birthday Party Ideas 4 Kids

Home
Birthday Themes
175 Birthday Themes
1st Birthday Ideas
Pool Party Ideas
Teen Ideas
Tween Ideas
Twins Party Themes
Party Games
1st Birthday Games
2 , 3 and 4 years old
5 and 6 year olds
7, 8 and 9 year olds
Boys Party Games
Girls Party Games
Icebreakers
Party Games
Pool Party Games
Scavenger Hunts
Tween Games
Sleepovers
Sleepover Ideas
Slumber Party Games
Home Spa Recipes
Truth or Dare Questions
Boys Sleepover Ideas
Scavenger Hunts
All with FREE item lists!
Mall Scavenger Hunts
Scavenger Hunts
Party Ideas
Party Venues
Birthday Tips
Candy Buffet Tips
Goody / Loot Bags
Invitation Ideas
Menu Ideas for Parties
Party Favors
RSVP Help

Birthday Activities
Birthday Party Activities
Birthday Crafts
Bubble Activities
Craft Recipes
Sidewalk Chalk Games
Water Balloon Activities
About
Contact
Directory
Share Your Party Ideas
Sitemap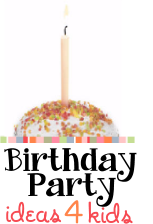 Peacock Party Ideas
A peacock birthday party theme will make your kids birthday party extra special. Use these fun ideas sent in by our readers to help plan your peacock party.




Peacock Party Invitation Ideas
Buy vibrant note cards in bright blue, aqua, green and/or purple and attach a real (or paper) peacock feather to the outside of the invitation.

Send out note cards with a bright paisley pattern on the front. Or make your own by pasting paisley scrapbook paper to the front of blank note cards. Write party information on the inside.
Decoration Ideas
Decorate the peacock party with bright blue, green, aqua and/or purple. Find the exact colors you want to use and then you can mix and match patterns as long as they are in those colors. For a dramatic look use vivid solid color tablecloths (aqua or bright blue) and use solid color plates (green). Fold solid color purple napkins in a fan pattern and place them behind the plate to look like a peacock tail. You could also use a bright paisley print to mimic the peacock feathers.

Set out snacks and food in brightly colored bowls in bright blue, aqua, green and purple. Peacock feathers can make a beautiful centerpiece simply by placing them in a tall vase. Fill in around the peacock feathers with large feathers in bright colors.

Drape brightly colored tulle or crepe paper from the ceiling outward towards the walls of the party room and then let it drape down the walls. Bright colored helium balloons tied on the back of each chair at a party table or in bunches is a great (and inexpensive) way to add lots of bold color to the Peacock party.

Activities


Face Painting


Paint the faces of the guests to look like a bold peacock. Use our homemade face paint recipes for quick and easy face paint.



Peacock Funky Flip Flops


Let the guests make their own bright flip flops using our flip flop craft directions. Use bright colored cloth or ribbon.
Peacock Party Games
Peacock Egg Hunt
Before the Peacock party buy lots of plastic Easter eggs - peacock eggs! Fill them with candy, small prizes or write numbers on some of them and let the party guests exchange them for bigger prizes that correspond with the number on the egg. Hide the peacock eggs all over the birthday area. Buy white paper sacks that the guests can decorate during the party and then use to hold the eggs they collect during the peacock egg hunt.

Party games for ages 7, 8 and 9

Party Games for 5 and 6 year olds

Birthday games for ages 10, 11, 12

See our huge list of great party games for kids


Party Foods
In glass pitchers or dispensers add food coloring to sprite and/or water (or use Kool-aid) to make drinks that match your party color scheme. You can also freeze blue or green colored Kool-aid in ice cube trays and add them to drinks.

Use teardrop cookie cutters and cut out shapes in sandwiches, brownies, cookies, rice krispies or fruit and arrange them on a platter in the shape of a peacock tail.

Decorate cupcakes with different colored frosting in bright blue, purple and green and arrange on a platter to look just like a peacock tail.

Sprinkled marshmallows are a fun way to add color to a party food table. Place a large marshmallow on a skewer and dip a little bit of water - then roll the marshmallow in a dish of colored sprinkles. Then place the skewers in a tall vase and place on the party food table.


Party Favors
Peacock feather pen
Feather boas
Sunglasses
Stuffed peacock
Bubbles in bright bottles of green, blue or purple
The prizes or candy from the birthday peacock egg hunt


Goody Bag Ideas
Bright colored paper sacks - fold over and punch two holes at the top of the bags fold. Thread colorful curling ribbon through the two holes and tie in a bow.
Tie all the party favors up in a colorful paisley bandana or cloth - tie the ends together.

---
Great ideas for a party including kids birthday games, birthday themes, decorations, themed parties, invitations, themed party favors, sleepover ideas, birthday party RSVP help, party ideas for kids birthdays, scavenger hunts, bday party themed activities.

Games at a party are easy with our pary theme pages - each page has many to choose from and there are also party games listed by age catagory - 1st birthday, games for 2, 3 and 4 year olds, 5 and 6, 7, 8 and 9 years old and a tween page too. Over 175 boy themed and girls themed parties. Birthday party ideas for a fun kids, tween ( 10, 11, 12 years old ) or teen (
13, 14, 15, 16, 17, 18 year olds ) celebration!
© Kelula 2007 - 2014