Home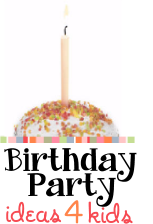 Sports Birthday Party Themes
We've taken everyone's favorite sports and turned them into fun Birthday themes. Choose your favorite sport party ideas from the links below and you will find great ideas for sports themed games, party decorations, invitations, food and more!
---
Great
ideas for a party including kids birthday games for boys and girls, birthday themes, , fun ideas for birthday party planning,
scavenger hunts, decorations, invitations, themed party favors, sleepover ideas for boys and girls, bday party themed activities , and real simple and cheap birthday party ideas for kids! Let us help you plan your next birthday party at home!
Good birthday party ideas for kids, tweens and teens ages 1, 2, 3, 4, 5, 6, 7, 8, 9, 10, 11, 12, 13, 14, 15, 16, 17 and 18 years old.

© Kelula 2007 - 2015