Birthday Party Ideas 4 Kids

Home
Birthday Themes
170 Birthday Themes
1st Birthday Ideas
Pool Party Ideas
Teen Ideas
Tween Ideas
Twins Party Themes
Party Games
1st Birthday Games
2 , 3 and 4 years old
5 and 6 year olds
7, 8 and 9 year olds
Boys Party Games
Girls Party Games
Icebreakers
Party Games
Pool Party Games
Scavenger Hunts
Tween Games
Sleepovers
Sleepover Ideas
Slumber Party Games
Home Spa Recipes
Truth or Dare Questions
Boys Sleepover Ideas
Scavenger Hunts
All with FREE item lists!
Mall Scavenger Hunts
Scavenger Hunts
Party Ideas
Party Venues
Birthday Tips
Candy Buffet Tips
Goody / Loot Bags
Invitation Ideas
Menu Ideas for Parties
Party Favors
RSVP Help

Birthday Activities
Birthday Party Activities
Birthday Crafts
Bubble Activities
Craft Recipes
Sidewalk Chalk Games
Water Balloon Activities
About
Contact
Directory
Share Your Party Ideas
Sitemap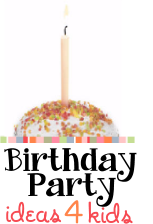 Watermelon

Party Ideas




Watermelon themed birthday party ideas.
A Watermelon party is great for summer birthdays!
Watermelon Invitation Ideas


Glue a wide piece of green and white striped ribbon to the top of pink note cards for a fun and easy watermelon invitation.

Glue pink patterned scrapbook paper over 1/2 of a note card - and green patterned scrapbook paper over the other half. In the center, where the papers come together, glue a piece of black and white polka dotted ribbon.

Watermelon Party Decoration Ideas
Green and pink party supplies in any pattern. Green and white checkered tablecloth with hot pink plates, cups and flatware. Wrap pink flatware in green napkins and tie with a black polka dot ribbon. Or decorate party area in a traditional picnic theme with red and white checkered tablecloths, picnic baskets, fresh flowers and blankets on the ground for guests to picnic on.

Draw seeds onto pink or red balloons with a permanent black marker - mix with green balloons.
Craft
Watermelon Flip - Flops
Make funky flip flops for the guests to wear during the party. Buy green and pink material and tie on to flip flops. Complete directions for our
flip flop craft
.

Watermelon Party Games
Traditional picnic games

Set up traditional picnic style games for the guests to play such as a three legged race or tug of war.

Watermelon Seed Hunt
Cut out teardrop shapes from poster board for the watermelon seeds. On a few watermelon seeds write down a number - this number will correspond with small gifts or candy. Hide the seeds and ask guests to find all of them. When the watermelon seeds have all been found the kids can turn in the seeds for small gifts or prizes.

Watermelon Eating Contest
Cut slices of watermelon in equal sizes and place on paper plates. The guests then place their hands behind their back and on "go" start to eat their watermelon slice as quickly as possible. The first guest to finish wins a small prize.

Watermelon Roll Relay
Divide party guests into two teams and each team gets a large watermelon. The object of the game is for the teams to roll their watermelon across the playing area to a set mark and then back.. First team with all of their members to complete the relay wins. Variation: After kids master rolling the melon with their hands have them roll it with their noses or without hands.

For more fun games see our
party games
page and our
pool party games
page.
Food Ideas
Watermelon
Watermelon and fruit kabobs - cut thin slices of watermelon and other fruits with a round or flower shaped cookie cutter and place alternating fruit slices on skewers.
Pink lemonade
Picnic type foods such as hamburgers or hotdogs

Serve strawberry ice cream in green bowls with chocolate chip sprinkles (looks like watermelon seeds!)


Party Favor Ideas
Watermelon candies
Watermelon seeds in a terra cotta pot
Bubbles
Sunglasses
Pink and green beach towel
Pink and green pixie stix
Goody / Loot Bag Ideas
Pink and Green sand pails
Pink paper bags with green tissue paper (or vice versa)
Green boxes tied with pink ribbons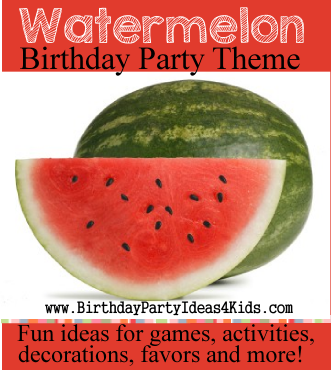 FROZEN
Birthday Party Ideas!
Unique games, activities, icebreakers, decoration ideas, party favors and more!
Birthday Quotes, Wishes, Poems, Sayings and birthday wishes for birthday cards
Great ideas for a party including kids birthday games, birthday themes, decorations, themed parties, invitations, themed party favors, sleepover ideas, birthday party RSVP help, party ideas for kids birthdays, scavenger hunts, bday party themed activities.
Games at a party are easy with our pary theme pages - each page has many to choose from and there are also party games listed by age catagory - 1st birthday, games for 2, 3 and 4 year olds, 5 and 6, 7, 8 and 9 years old and a tween page too. Over 175 boy themed and girls themed parties.
Birthday party ideas for a fun kids, tween or teen celebration!
© Kelula 2007 - 2014