Hockey Party Theme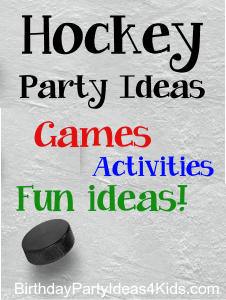 Fun Ideas for a Hockey Theme Birthday Party
Great ideas for invitations, decorations, party games, activities, party food, favors and more! Use these fun ideas to pull together a great Hockey party that is inexpensive and also fun for all ages!
Hockey party supplies from Amazon
Hockey Theme Party Invitations
Invitations can be fun - cut out an glue a hockey puck to a card with party information inside..

Buy mini sticks and print the party information on them with a permanent marker..

Make a team jersey card. Using cardstock cut a piece of 9.5 x 11 into two pieces each one 9.5 x 5.5. Fold over and trace a jersey pattern onto the card. Cut out the jersey making sure to leave the neck attached. Cut and paste a picture of your favorite hockey teams logo on the front and write party information inside.
Inside the invitation ask everyone to wear their favorite team jersey And also have them bring their hockey sticks if you will be playing a game of street hockey.
Hockey Birthday Party Decorations
Decorate the party area in your child's favorite team colors. Use streamers and balloons with colorful tablecloths. Set hockey pucks and sticks around the room along with hockey posters on the walls.
To decorate the party table simply place a white plastic or linen tablecloth on the table and then add blue and red tape set up to look like a hockey rink.
Make a penalty box out of a large box and have guests leave their presents inside it. When it is time to open presents have the birthday child sit in the box and one by one let the guests bring up their present to sit in the penalty box while the present is opened.
Place hockey jerseys on the backs of the party chairs. Put up jerseys on the walls. Use trading cards to make a banner to string across the party table, fireplace or above doorways.
Make the front door area look like a ticket booth where guests have to get a ticket to enter the party.
Fun Ideas
Purchase jerseys in two different colors and iron on letters to spell the guests last names. Use these while they play hockey - then let them take the hockey jersey's home as a party favor. Let them have an autograph session and autograph each others shirts with a permanent marker.
Or print out their favorite hockey teams logo and let them trace it onto their jersey.
You can find hockey team logos.

Take a team picture for everyone to take home (or send out with the thank-you cards) and after they have played blackout a few teeth on the guests, mess up their hair and uniforms and take an "after" picture for fun.
While guests are arriving and waiting for everyone to show up to the party have an adult or older teenager apply temporary tattoos.
Hockey Birthday Party Activities
Attend a hockey game. Check to see about special birthday party rates and information.

On the invitation ask the guests to bring their roller blades and street hockey sticks to the party. Set up goals and mark the hockey game area with chalk. If possible ask a few of the local high school hockey players to come and make an appearance at the party and teach the guests a few new moves. Divide guests into two teams to play or have them play against the parents/adults at the party.

Paint wooden frames before the party begins in your favorite teams colors. During the party let guests decorate the frames with wooden hockey sticks, letters, pucks, etc.
Games for a Hockey Birthday Party
Hockey Contest
If you have a goal let the guests take turns:
Most accurate - who can hit a street hockey ball into a bucket from 20, 30, and 40 feet away.
Best blindfolded - blindfold guests and see who can hit the ball into the goal.
Best Goalie - see who can fend off the most attempts to make a goal (10 shots).
Give prizes for the winners.

Obstacle Course
Set up an obstacle course that the guests will have to maneuver a street hockey ball through with their hockey stick. Set up orange cones and have them criss cross in between them, go around a tire, under several ropes set up 3.5 feet high ... and anything else you can think of that an obstacle course would have.
Give the guests whistles and stopwatches to time individuals. These can also be played relay style with teams. When they are done - make them do it again only backwards!
Shoot the Puck
Make a large cardboard box into a goal. Cut several holes in the bottom of the box and label them with point values. Have players stand the same distance from the cardboard goal and try to shoot a black bean bag into one of the holes. Each player gets 3 turns. Add up the scores and the highest score wins!
Can also be played outside using hula hoops on the ground as targets. Players try to hit their pucks into a hula hoop circle to get as many points as they can.
Hockey Birthday Party Food
Hockey puck burgers
Hockey puck brownies - cut brownies into circles with a cookie cutter or cup
Cupcakes arranged in the shape of a puck and hockey stick or made to look like individual hockey pucks
Concession foods: hotdogs in foil, popcorn, nachos etc. Set up a concession food bar with all the food and let guests create their own meal. Get creative and label the food fun terms with small signs.
Snow cones
Design a cake to look like an ice hockey rink or have your favorite hockey team logo placed on top
Pizza
Wings with celery and carrot sticks
Chili
Hot Chocolate
Party Favors
Ding Dong cupcakes (hockey pucks) or Oreos
Stickers
Small hockey sticks
Pencils
Sports bottle
Jerseys
Hockey pucks
Street hockey balls
Patches
Hockey trading cards
Cool colors of hockey tape
Free tickets to league hockey games
Goody Bags
Handkerchiefs with your favorite hockey teams colors or logo to wrap around the favors
Chinese take-out boxes decorated with hockey stickers

NHL stickers or trading cards.
Sports bottles or small bottles of Gatorade or sports drinks. Hot chocolate packets are fun too!