Home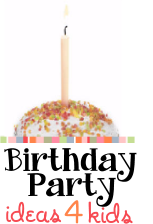 Dora the Explorer Theme - Birthday Party Ideas
Fun theme ideas for a Dora the Explorer birthday party
Invitation Ideas
Dora the Explorer invitations set the stage for a scavenger / treasure hunt by sending guests a message in a bottle. Print our party information 2 to a sheet of paper. Cut them apart and roll the 1/2 sheets of paper with the party information into scrolls. Tie the scrolls with a small piece of twine or curling ribbon. Place them inside clear plastic water bottles (great way to recycle!) Add some sand, silk leaves or anything that will relate to the treasure hunt you are having. See below.
You can also send out fun Dora the Explorer invitations that look a treasure map. Print the invitation information on brown paper. Include a map to the party location using symbols instead of words. Crinkle the paper to make it look old. Then send out to your guests.

On the invitation say something like:
Come on! Vamanos!
It's _______________'s birthday party! Come find some fun!
Date: ______________________
Time:_______________ to _______________
Place:_________________________
RSVP: ________________________
Map to the party:
Decorations for a Dora the Explorer Party
Color scheme: orange and pink
Decorate the party with streamers and balloons. A fun way to hang streamers is to cut the crepe paper into strips varying from 8" to 12". Tape them next to each so they hang down on mantles, doorways, stairways, etc. Tie helium balloons to the backs of the party table chairs.
Fun Ideas for a Dora the Explorer Party


A fun idea for a Dora the Explorer party is to have an adult dress up as Swiper.

Let them hide until it is time to tell the children what he has swiped and hidden (see Dora the Explorer treasure hunt below) so the children will be surprised.

Swiper should be dressed in grey with blue gloves and a blue mask. Paint on a black nose and whiskers with face paint.

Dora the Explorer Party Games
Scavenger / Treasure Hunt
Make a fun scavenger / treasure hunt for the birthday party guests. Let the guests use clues to search for missing or stolen (Swiper!) objects from the birthday party.
Before the party: Decide on what objects will be missing that the children have to find. Good ideas for missing objects are: cake candles, the birthday cake itself, flatware, balloons, blowers / horns, or the presents. Hide several of these items and let the children search for them and then pick them up and carry them on the journey. When you have decided where the items will be hidden make a list of their locations. Also make a list of where you will hide the objects - add several places that items won't be hidden but that will be part of the treasure hunt. Number these hiding places on your list.

Place the clues around the party area so that one clue will lead to the next and so on. Hide small party favors along the way that the children can take home with them. Some suggestions are party hats, rings, blowers / horns, magnifying glasses, etc. To make the hunt last longer you can make the children have to perform a task before they can get the next clue. Fun ideas are: build a tower of blocks, sing a nursery rhyme, say the alphabet backwards, etc.

For fun you can decorate the house and yard into different areas that will give them a clue where to look. For example: Hang wrapped candies from a tree and call it the "sugar tree". Place large lollipops in the yard (poke the stick into the ground) and call it the "lollipop forest". Decorate a room in blue for the "shimmering lake" or brown for a "cave".

Decide what you want Swiper to swipe from the party. The cake or the presents are always fun. Make sure the children see the cake on the table or the presents lined up before they are swiped. Distract them with a game in another room and move the cake or presents (or both!) to their hiding spot. Then announce that it's time to open presents ... or have cake and ice cream. Pretend to be concerned that the presents are missing. Look around the room for them and ask the children if they have seen them. If you have someone to dress up as Swiper have them appear. If you do not have anyone to dress up as Swiper then tell the children that you know who did this ... it must be Swiper!

Drawstring bags or small backpacks make great party favors for a Dora the Explorer party and they can be used now while the children are trying to find the missing items.
Party games for ages 7, 8 and 9

Party Games for 5 and 6 year olds

Birthday games for ages 10, 11, 12

Here are a list of more fun games to play at birthday parties
Activities
Decorate drawstring bags or backpacks
Paint wooden picture frames and decorate with glitter, paint and/or foam cut-outs
Decorate cupcakes or brownies
More fun birthday party activities

Food Ideas for a Dora the Explorer Party
Chips, Salsa, Queso and Guacamole
Cheese and Chicken Quesadillas
Tacos - Have a serve yourself taco bar where party guests can add their own toppings.
Cream cheese pinwheels - Spread cream cheese on a tortilla (add chopped green chili if desired) then roll up. Start at the end and cut the tortilla "tube" every 1" . The circular pieces look like pinwheels.
Sopapillas and honey (Fried Mexican pastry)
Party Favor Ideas
Compass
Canteen
Small pair of binoculars
Magnifying glass
Maracas
Mexican Jumping Beans
Dora themed items such as stickers, chapstick, etc.
Small notepad and pencil
Goody / Loot Bags
Contain your Dora birthday party favors in:
Small backpacks or drawstring bags
Sombrero
Fiesta printed bandana (wrap around the party favors and tie with string)
---
Great ideas for a party including kids birthday games for boys and girls, decorations, invitations, birthday themes, themed party favors, sleepover ideas for boys and girls, fun ideas for birthday party planning, bday party themed activities ,scavenger hunts and real simple and cheap
birthday party ideas for kids! Let us help you plan your next birthday party at home!
Good birthday party ideas for kids, tweens and teens ages 1, 2, 3, 4, 5, 6, 7, 8, 9, 10, 11, 12, 13, 14, 15, 16, 17 and 18 years old
.

© Kelula 2007 - 2015