Birthday Party Ideas
4 Kids
Home
Themes
Birthday Themes
1st Birthday Ideas
Pool Party Ideas
Teen Ideas
Tween Ideas
Twins Themes
Party Games
1st birthday
2 , 3 & 4 year olds
5 and 6 year olds
7, 8 & 9 years old
Boys Games
Girls Games
Icebreakers
Party Games
Pool Party Games
Tween Games
Sleepover Games
Slumber Party
Spa Recipes
Truth or Dare
Boys Sleepovers
8 Mall Hunts
Scavenger Hunts
Party Ideas

Birthday Tips
Candy Buffet Help
Goody Bags
Invitation Ideas
Party Favors
Menu Ideas
RSVP Help
Activities
Party Activities
Craft Recipes
Bubble Activities
Sidewalk Chalk
Water Balloons
Contact
Share An Idea
About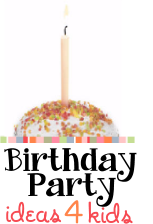 Gingerbread Man Birthday Party Ideas
Gingerbread Man Decoration Ideas
Decorate outside the birthday party area so it resembles a candy filled Gingerbread house. Place really big plastic candy canes so that they line the driveway and walkway. Place colorful strings of lights on trees, bushes and over the entryway to the birthday party.

Hang giant plastic candy from trees. Frosting can be cut out of white poster board or card stock and then attached around and over the party's entrance. Decorate in brown, green, red and white. Place large see through containers of candy canes tied with red and green ribbons on the table.

Place colorful strings of lights around the birthday party area and on top of party tables.
Gingerbread Man Party Invitation Ideas
Make gingerbread shaped cards by tracing construction paper with a large gingerbread man cookie cutter and then cutting them out. Print party information onto the back and decorate the front to look like a gingerbread man.

Trace gingerbread men from sheets of sandpaper and decorate with markers and paint.

Place gingerbread house or gingerbread man stickers on plain brown note cards and write party information inside.
Gingerbread Man Party Activities


Play Dough Men


Set out containers of different colored Play Dough and a large amount of brown Play Dough (make the brown Play Dough the party). Give the children several different sizes of gingerbread man cookie cutters. They can make gingerbread men with the cookie cutter. Bake in a 200 degree oven for 5 minutes to make them hard so the kids can take them home as party favors. They can easily be made into ornaments by poking a small hole at the top before baking. Tips: If you cover baking pans with some wax paper cleanup will be a breeze! Place a cheap plastic table cloth over the work surface before the guests start working with the play dough - after the party just pick up and toss for easy clean up.
House Decorating Contest
Give each guest several squares of Graham Crackers and a baggie filled with white icing (cut a small hole at one of the corners to turn it into a pastry bag). Let them get creative building their own houses and then let them decorate with small candies. Tip: Give guests a strong paper plate to build their house on - they can then take it with them as a party favor.


Cookie Decorating

Before the party bake (or buy) large sugar cookies in the shape of Gingerbread men. Set out icing, sprinkles and small candies so guests decorate a Gingerbread Man cookie. Tip: Wrap them up and send them home as party favors.


Life Size Gingerbread Men

Let guests make a life size gingerbread man. Use butcher paper or brown wrapping paper rolls and cut a piece for every party guest that is as tall as they are. Lay the pieces of paper on the ground and have the children lie on the paper. Trace around the kids. Then they can color their shape to look like a gingerbread man.


Gingerbread Man Party Games
Candyland
The game Candyland uses gingerbread men as playing pieces. For younger children set up the Candyland game and they can play together.
Party games for ages 7, 8 and 9
Party Games for 5 and 6 year olds
Birthday games for ages 10, 11, 12
Gingerbread Man Party Food Ideas
Cut out gingerbread men shapes with any of these foods: cookies, brownies, fruit, sandwiches, cheese, etc.
Hot Chocolate with marshmallows


Favor Ideas
Small gingerbread man cookie cutter with a container of colorful Play Dough.
Gingerbread man cookies
Mugs filled with hot cocoa packets and marshmallows
Candyland game
Copies of the Gingerbread Man book
Goody / Loot bag Ideas
Large mugs
Gingerbread man printed bandanas or material - wrap the party favors in the material and tie
Brown paper bags ties with red ribbon
---
Great birthday ideas for a party including the best kids birthday games for boys and girls, birthday themes, fun
ideas for birthday party planning, scavenger hunts, decorations, invitations, themed party favors,
sleepover ideas for boys and girls and bday party themed activities that are real simple and cheap birthday party ideas for kids!

Let us help you plan your next birthday party at home!
Good birthday party ideas for kids, tweens and teens ages 1, 2, 3, 4, 5, 6, 7, 8, 9, 10, 11, 12, 13, 14, 15, 16, 17 and 18 years old.

© Kelula 2007 - 2016