How To Make a Quarantine Birthday Party Special
Buy these fun quarantine party decorations on Amazon!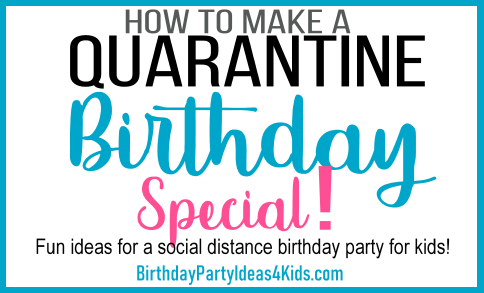 Celebrating a birthday during the quarantine is challenging, but there are great ways to make the birthday boy or girl feel very special during their special day! Here are the best ways to celebrate a quarantine birthday for kids of all ages!
Quarantine Birthday Ideas
Drive By Birthday Party Ideas
1. Decorate the front yard with party decor. Helium and regular balloons, large birthday signs, banners and garland. Write the birthday child's name with sidewalk chalk and decorate the whole driveway.
2. Ask family, friends and neighbors to drive by during a 1 hour period and wish the birthday child a Happy Birthday.
3. Make a sign that says " (your child's name) is 6 today! HONK to say Happy Birthday!"
4. Decorate a large basket or use a child's basketball hoop and let drive by guests try to get their present or card into the basket or through the hoop as they drive by. Fun for all ages!
5. If you are giving out party favors to the drive by guests use a long arm grabber tool as a fun way to maintain a distance.
The Sing Along
1. Ask family, friends and neighbors to gather (using social distancing!) at a certain time during the day to all sing Happy Birthday together.
2. Have the cake ready so the birthday child can blow out the candles after the neighborhood sings to them.
3. Video the sing along and keep as a special birthday memory!
Neighborhood Birthday Scavenger Hunt
Make or download a fun birthday color sheet. Print out copies and deliver to the front door of your neighbors with a note that asks them to color the picture and place it in a front window where it can be seen from the street. Then the next day (or whatever time frame you have chosen) go on a Birthday scavenger hunt around the neighborhood to find the birthday pictures. Take a picture of your child with each birthday sign in the background and then make a photo album or scrapbook to create a fun birthday memory.
Virtual Party
Set up a Zoom party with friends! Send out invitations to the party with directions on how and when to join the Zoom party. Send a party hat, cupcake and noise makers with the invitation so everyone can be in a party mood during the Zoom party. Make a time limit of 30 minutes for the party.
1. Scavenger Hunt
During the virtual party have a fun Scavenger Hunt with all the kids! Make a list of common items to find. Give the kids 15 seconds to run and get the item you call out and be back in front of the screen. Players who find an item and make it back in 15 seconds get 1 point. Kids love this game so have a list of at least 20 things to find! Here are some great ideas for a home scavenger hunt:
Something Fuzzy
Something Blue
Ball
Something In the shape of a letter
Dog
Backpack
Pencil
Penny
Lego
Something Square
Something Shiny
Piece of paper
Crayon
Block
Action figure
2. Keep up the Balloon
In the invitation send a few balloons that the kids can blow up and play a game together. Have everyone inflate their balloon and then on "go" all the kids have to try to keep their balloon from touching the ground. They can't hold onto their balloon, but must keep tapping it upward to keep it in the air. Play a few rounds so everyone gets the hand of keeping their balloon in the air.
3. Balance
Have the virtual party guests find a common everyday object such as a pencil or a plastic cup (or send the same item to guests with the invitation). Then they must balance the object on their head for the longest time.
4. Would You Rather
Would You Rather is a fun game that can be played virtually with party guests. Print out our Free Would You Rather Game Questions and then ask them to party guests. Guests are given two options and have to choose only between those answers. Kids love it!
5. Play some Minute To Win It Games
Minute to Win It games are fun and use everyday items most people have at home. See our Minute To Win It game page for some great ideas on games to play. Choose 2 or 3 and let the virtual guests play along together!
6. Birthday Wishes
In the party invitation ask guests to create a card or picture for the birthday boy or girl. At the end of the party have each guest, one by one, present their card.
7. Create
With the invitation send party guests a tub of playdoh. During the party play a game where the guests have to create the object that you call out. If you say "Create a dog" then the guests have 1 minute to make a dog out of their playdoh. Then have guests show their creations to each other. Some fun objects for kids to create are:
Dog
Flower
Cube
Funny Face
Snake
Birthday Party Item
Monster
8. Sing
Sing Happy Birthday and let the birthday child blow out the candles on their cake. Then let virtual guests join in and have their cupcake too!
At Home Party Ideas with Family
1. Treasure Hunt
Set up a long treasure hunt with clues that lead from one place to the next and then finally end at the treasure. Have the final clue lead to the birthday cake or present. See our Treasure Hunt page for complete instructions on how to set up a Treasure Hunt.
2. Create Birthday Traditions
See our How To Make a Birthday Special page for some great ideas on making your child feel loved on their birthday.
3. Camp at Home
Set up tents in the backyard or make forts inside to sleep in. Make Smores and tell campfire stories.
4. Decorate
Keep the mood fun with quarantine decor such as yellow and black hazard tape, Restricted area signs, and black and yellow balloons. Find some fun quarantine birthday decorations on Amazon.
More ways to celebrate a Quarantine Birthday
Have cupcakes, cookies or balloons delivered to the birthday boy or girl.
Hire a birthday entertainer to perform a show for your family. There are many birthday performers that are doing virtual shows online. Hire a magician or clown and watch them at home!
Send a gift from Amazon and have it delivered to the birthday child's house.