Home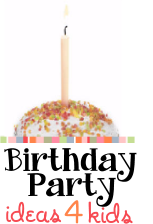 Invitation Ideas for Kids Birthday Parties
Fun ideas for birthday Party Invitations



Birthday party invitations inform your guests of the birthday party date, time and place. But invitations can also convey your party theme and create excitement before guests arrive.

There are many fun and creative ways to use birthday invitations to announce your birthday party date. Start by choosing a party theme or color scheme that will be carried out throughout your party. Next browse through these invitation ideas and find one that will fit with your budget and creativity level.

What to write on the birthday invitation - ideas for what information to include on the party invitation, RSVP help and how to avoid sticky party situations.



See the tutorial for this cute invitation at

http://debbiehodge.com/2010/10/cupcake-card-tutorial/

Traditional Invitations
Buy a package of fun and colorful Birthday Invitations at the store, fill them out and send to guests. There are invitations that will fit almost any theme - this is an easy choice if you are short on time or find some great invitations that your love.

If you are having trouble finding an invitation for a certain character or theme Ebay usually has a great selection on hard to find birthday theme items.
Computer print-out Invitations

Invitations that you make from your computer are getting to be more and more popular. Many websites feature free templates for birthday cards. Simply fill in birthday party information and print out. Use colored ink, or print in black and white and have kids color them in.
Online Invitations
Create extraordinary free digital invitations in minutes at Smilebox.com! You can even add your own photos, video clips and music.
Make at home Invitations
Popular with tweens and teens make at home invitations are a great way to announce your party. Use pictures printed out on cardstock and decorate with markers, ribbons, glitter or jewels. We recently received a fun invitation for a friends 16th birthday that was made up in "ransom note" style fonts with pictures of the birthday girl through out her life. Use coloring book page drawings or check the internet for pictures of your favorite character or theme.
Fun and easy!


Photo Invitations
If you have a photo program you can easily make birthday invitations using a picture of your child. Choose one or more photos and add birthday party information and details around the picture(s). Having these developed can cost as little as .19 each.


Creative Theme
- Going all out with a birthday party theme is fun and what better place to start then the invitation to set the mood for the party. Be creative and think of different ways to invite your guests to the party.

Candy Bars or M&M container invitations- print party details on large labels (found at discount or office supply stores) and stick them on the back of candy bars or M&M containers. Add: "It'll be a sweet time at ______________ birthday party!" or send them out for a Sweet Sixteen party.

Beach ball invitations - blow up and write the party details on the ball - then deflate and send to guests.

Message in a bottle invitations can be found at party stores - write your party information on a piece of paper, slip it into the bottle and seal with a cork. Yes, they can go through regular mail! Or make your own using small soda bottles with lids. Remove labels and cover with stickers or labels.

Glow in the dark invitations - for spy, alien or glow in the dark parties. Color invitations with glow in the dark paint or stickers.

Scrolls - Write party information on a piece of parchment paper then roll up and tie with a ribbon. (Great for princess, tea parties, medieval and pirate parties)

Treasure Map Invitations - Make this fun invitation resemble a treasure map. After printing information on a sheet of paper dip them in tea for a few minutes to stain them brown and make them look old. Dry and then roll up and fasten with a cord or string.

Footballs - or other small plastic sports balls. Write party information on them with permanent markers. Fun invitations sure to please.

Secret Code - Write party information in a secret code on the invitation that guests will have to decode. (Scavenger hunts, treasure hunts, spy or detective parties. ) Bottles of bubbles - print out a large label with the party information and details. Stick the label to a bottle of bubbles.
Puzzle Invitations

- Buy blank puzzles (available at craft stores) fill out birthday party information and send pieces to guests.

Prop Invitations
Prop Invitations - send a prop or something you will be using at the party such as a bandanna, hat, or sword that they will have to wear to get into the party.

Helium balloons make wonderful invitations - blow up helium balloons and slip the party information inside. Tie a string on the balloon and then hand out to guests or tie on their front doors. They will have to pop the balloon to find the place and time. Or tie the invitation to the helium balloon string so they can keep the balloon.
Send a taste - Send something from your party to get guests excited about attending.

Sand - place a little sand in the invitation for Luau's, Pirate, Summer or Beach parties.

Game ticket - include an admit one or game ticket for Circus, Carnival themes or Sports themes.

Gold Coin - Pirate, Scavenger Hunts or Treasure Hunts.

Confetti - Always festive to include in an invitation.

Stick on earrings, tiara or jewelry - Princess, Dress Up, Cinderella or tea parties.




---
Great ideas for a party including kids birthday games, decorations, invitations, birthday themes, themed party favors, sleepover ideas,
fun ideas for birthday party planning, bday party themed activities ,scavenger hunts and party ideas for kids!
Birthday ideas for kids, tweens and teens ages 1, 2, 3, 4, 5, 6, 7, 8, 9, 10, 11, 12, 13, 14, 15, 16, 17 and 18 years old
.
© Kelula 2007 - 2014