Birthday Party Ideas 4 Kids

Home
Birthday Themes
170 Birthday Themes
1st Birthday Ideas
Pool Party Ideas
Teen Ideas
Tween Ideas
Twins Party Themes
Party Games
1st Birthday Games
2 , 3 and 4 years old
5 and 6 year olds
7, 8 and 9 year olds
Boys Party Games
Girls Party Games
Icebreakers
Party Games
Pool Party Games
Scavenger Hunts
Tween Games
Sleepovers
Sleepover Ideas
Slumber Party Games
Home Spa Recipes
Truth or Dare Questions
Boys Sleepover Ideas
Scavenger Hunts
All with FREE item lists!
Mall Scavenger Hunts
Scavenger Hunts
Party Ideas
Party Venues
Birthday Tips
Candy Buffet Tips
Goody / Loot Bags
Invitation Ideas
Menu Ideas for Parties
Party Favors
RSVP Help

Birthday Activities
Birthday Party Activities
Birthday Crafts
Bubble Activities
Craft Recipes
Sidewalk Chalk Games
Water Balloon Activities
About
Contact
Directory
Share Your Party Ideas
Sitemap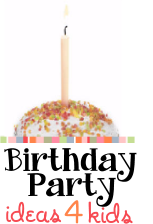 Western Theme Party Ideas
Fun ideas for twins, siblings or anyone who likes cowboys, cowgirls or western themed party ideas.
Party Invitations
Print out party information on large address labels. Then stick the labels on colorful bandanas and pass them out to party guests as an invitation. On the invitation ask the guests to wear the bandana to the party.

Example Western Party Verse:
Ya Hooo! Party time in the ________ (last name of birthday child) corral.
Ranch address: _____________
Branding time: _____________
RSVP by ________ so we'll know to be expectin' ya!
Party Decorations

Boots, Hats, Spurs, Bales of hay, and Rope are great items to use to decorate a Western Theme party. Use Bandana printed fabric for the tables and / or tie them on the back of the party chairs with rope. Bandanas can also be used as placemats or napkins.
White tablecloths with bandana printed napkins, plates and cups.
Place non spiny cactus plants on the table in terra cotta pots.
Make covered wagons easily using a wagon, two hula hoops and white muslin.
Attach the hula hoops standing up inside the wagon. Then cover with the muslin.
Western Party Games
Cowboy Hat Toss
Tie a bandana around a golf ball or other small ball and have party guests try and toss the bandana into the cowboy hat. Instead of one hat you could line up five hats in a row and have the kids try and get the bandana into the hats one at a time starting with the hat closest to the starting line.
Relay Races Western Style
Make up several relay races and let the children run them with their mop horses. Or buy two stick horses and let the kids trade off with each other.

Western Dress up relay - Gather two sets of western themed clothes including overalls, cowboy boots, cowboy hat, sunglasses, flannel shirt, etc. and place them in two separate piles a good distance from where the teams will start. Divide western party guests in teams. The teams first person runs across to the pile of their teams western clothes, put everything on, run back to tag their team - then back again to the pile and take off the items. They then run and tag the next team member in line and that person continues the relay until everyone takes a turn. Horseshoes
Teach the guests how to play the game of horseshoes. The rules and set up are easy and it is a lot of fun to play at a party. Here is everything you need to know about how to play horseshoes.
Food

Franks and beans
Tortillas chips, salsa and queso dip
Quesadillas - 2 flour tortillas grilled in a little butter with cheese in the middle. Cut with a pizza cutter into triangles.
Cookout burgers
Sloppy Joe's
Chili

If possible to have a campfire - roast hot dogs and make smores' over the fire.
Party Favors
Tin cups
Cactus with no spines
Twizzler ropes
Cowboy hat
Bandana

Goody Bags
Lay a bandana flat and place the party favors on top. Fold the sides of the bandana around the party favors and then tie with raffia or ribbon.
Cowboy / Cowgirl hats
Star shaped box
FROZEN
Birthday Party Ideas!
Unique games, activities, icebreakers, decoration ideas, party favors and more!
Birthday Quotes, Wishes, Poems, Sayings and birthday wishes for birthday cards
Great ideas for a party including kids birthday games, birthday themes, decorations, themed parties, invitations, themed party favors, sleepover ideas, birthday party RSVP help, party ideas for kids birthdays, scavenger hunts, bday party themed activities.
Games at a party are easy with our pary theme pages - each page has many to choose from and there are also party games listed by age catagory - 1st birthday, games for 2, 3 and 4 year olds, 5 and 6, 7, 8 and 9 years old and a tween page too. Over 175 boy themed and girls themed parties.
Birthday party ideas for a fun kids, tween or teen celebration!
© Kelula 2007 - 2014