Birthday Party Ideas 4 Kids

Home
Birthday Themes
175 Birthday Themes
1st Birthday Ideas
Pool Party Ideas
Teen Ideas
Tween Ideas
Twins Party Themes
Party Games
1st Birthday Games
2 , 3 and 4 years old
5 and 6 year olds
7, 8 and 9 year olds
Boys Party Games
Girls Party Games
Icebreakers
Party Games
Pool Party Games
Scavenger Hunts
Tween Games
Sleepovers
Sleepover Ideas
Slumber Party Games
Home Spa Recipes
Truth or Dare Questions
Boys Sleepover Ideas
Scavenger Hunts
All with FREE item lists!
Mall Scavenger Hunts
Scavenger Hunts
Party Ideas
Party Venues
Birthday Tips
Candy Buffet Tips
Goody / Loot Bags
Invitation Ideas
Menu Ideas for Parties
Party Favors
RSVP Help

Birthday Activities
Birthday Party Activities
Birthday Crafts
Bubble Activities
Craft Recipes
Sidewalk Chalk Games
Water Balloon Activities
About
Contact
Directory
Share Your Party Ideas
Sitemap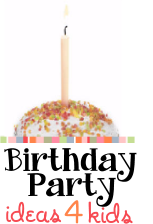 Puppy Dog Party Ideas
A Puppy Dog birthday party is a wonderful theme for kids who love dogs and animals
Invitations


Invitations are easily made for a dog party birthday theme. On the fronts of pretty blank cards glue 5 small circles so they look like a puppy dog print. One large circle in the center with 4 smaller circles for the toes above it.

Other fun ideas for dog theme invitations are cards in the shape of a bone, dog house or ball.

Buy or make dog shaped cards.

Puppy Dog Decorations
Decorate the Dog themed birthday party with black and white streamers and balloons. Cut out lots of circles (large and small) and make dog prints and tracks throughout the house, walls and entryway by taping them down in the form of dog prints. (Large circle with four smaller circles around the top of the larger circle.) Make a dog house out of brown tissue paper - twist the tissue paper into long tubes and tape to the wall to look like boards. Use black tissue paper in the shape of a rectangle for the door and hang a sign on the front with your favorite dog name.

Fun Idea
A fun idea - and a helpful one - is to ask guests to bring an item to donate to the local animal shelter. Old clean towels and blankets are always welcome along with food, treats, toys, leashes and collars. If possible take a quick trip to the shelter with the party guests to drop off the donations. If it's not possible to take all the kids with you, send a picture of your child dropping off the items in the thank you cards you send to all the guests. We've also come up with a fun Animal Shelter Scavenger Hunt list you can use to collect more items.

Puppy Dog Activities
Set up a fun craft for the guests and let them make dog ears from headbands and felt. Set out different colors of felt and fabric for them to choose from.

Face painting - paint the guests faces to so that they look like their favorite dog. Black noses, whiskers and lots of party fun!

Puppy Dog Party Games
Puppy Dig
Fill up a wading or swimming pool with some sand - enough for kids to dig through and hide the objects. Then hide some prizes inside the sand. Each child get 10 seconds to quickly dig through the sand to find a prize. When they find a prize then the next child gets a turn to dig.

This game can be turned into a relay race for two teams by either having two digging areas or separating the sand in half so each team gets 1/ 2 of the wading pool to in which to dig.

Biscuit Search


You can also hide dog biscuits in the sand and have teams race to see how many they can find in a 5 minute time limit. Have kids line up one behind the other and one at a time run to the pool, dig for a bone and then return back to their team. Set up containers for each team to deposit the found bones. They can only bring back one dog bone at a time.



Obstacle Course


See our party games page for fun ideas on obstacle courses and relay races for your dog party.


Party games for ages 7, 8 and 9

Party Games for 5 and 6 year olds

Birthday games for ages 10, 11, 12

Puppy Dog Party Food

Ice Cream & cake served in small dog bowls that are new

Puppy chow mix (Chex cereal covered in peanut butter, chocolate and powdered sugar)

Cut some of these food items with a puppy bone cookie cutter:

Cookies, fruit, brownies, sandwiches, bread, luncheon meats and cheese.


Puppy Dog Party Favors
If you know the names of the guests who will be attending the party you can make up dog tags before the birthday party at local pet store. They come in all kinds of fun sizes and shapes. Write their first name on the tag - include an inexpensive chain so they can wear it right away.
Balls
Dog ears or headbands

Puppy Dog Party Bags
New plastic dog dishes
Bandanas - wrap items up in the bandana and tie the ends together at the top.
Small wicker baskets
Cups with dog pictures
Puppy bowls