Birthday Party Ideas 4 Kids

Home
Birthday Themes
175 Birthday Themes
1st Birthday Ideas
Pool Party Ideas
Teen Ideas
Tween Ideas
Twins Party Themes
Party Games
1st Birthday Games
2 , 3 and 4 years old
5 and 6 year olds
7, 8 and 9 year olds
Boys Party Games
Girls Party Games
Icebreakers
Party Games
Pool Party Games
Scavenger Hunts
Tween Games
Sleepovers
Sleepover Ideas
Slumber Party Games
Home Spa Recipes
Truth or Dare Questions
Boys Sleepover Ideas
Scavenger Hunts
All with FREE item lists!
Mall Scavenger Hunts
Scavenger Hunts
Party Ideas
Party Venues
Birthday Tips
Candy Buffet Tips
Goody / Loot Bags
Invitation Ideas
Menu Ideas for Parties
Party Favors
RSVP Help

Birthday Activities
Birthday Party Activities
Birthday Crafts
Bubble Activities
Craft Recipes
Sidewalk Chalk Games
Water Balloon Activities
About
Contact
Directory
Share Your Party Ideas
Sitemap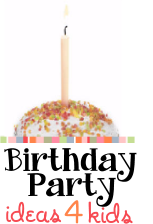 Beauty Party Ideas
Beauty Party Invitation Ideas
Print party invitation information on a label and stick it to bottles of lotion, perfume or nail polish and then hand out to party guests.

Download a lipstick font and use it when you print the party details, or on the front of plain note cards.


Write party information onto sleep masks and send to guests.

Ask guests to bring robes and slippers ... or arrive in their pajamas to the Beauty Party.
Decorations for a Beauty Party
Decorate the Beauty party in pinks, reds and touches of purple or blue. Red or pink table cloths with glitter or confetti spread on the table. (Cover with a clear plastic table cloth). Pink and red streamers and helium balloons
Activities
Hair Styles - Have a parent style the girls hair using curling irons, hot irons or curlers . For more fun check to see if a local beauty parlor will send a hairdresser to the party to give the girls up do's for a set price.

Paint Nails and Toenails

Facemasks - see our homemade spa recipes for some great facemasks.

Make funky flipflops as a craft - directions for funky flip flops.
Beauty Party Games
Nail Polish Beauty Birthday Spin Game
Have the girls sit together on the floor and inside the circle set out several different colors of nail polish. Birthday girl goes first by setting a bottle of nail polish sideways on the ground and spin it. If the girls are sitting on carpet you can place the bottle of nail polish on a magazine or other hard surface so it will spin. When the nail polish bottle stops spinning the girl that the cap is pointing to must paint one of her fingernails that color. After she paints her fingernail she then chooses a color of nail polish and spins it. Keep going until everyone in the circle has all of their fingernails painted. They can also continue the game and paint their toes. This is best played with crazy colors of nail polish ... lime green, turquoise, bright blue, etc.

Blind Beauty Make Over
Set out several items of makeup and a blindfold. The girls will draw numbers to see which order they will play the game in. To begin the girl who picked #1 puts on the blindfold and while blindfolded applies makeup to the girl who got the #2. When they are done #2 puts on the blindfold and does the makeup of #3 ... keep going until all the girls have had their makeup done. Really funny for everyone and all the girls love it. Take pictures afterward of everyone in their blind beauty makeup.
Beauty Guess and Win Game
Fill a see through jar with lots of small candies, nail polish, eye shadows, q-tips, hair ribbons, pony tail holders, jellybeans, skittles, marbles or rings. Count the items before you put them into the jar. As the girls arrive for the birthday party have them guess how many toys, makeup items or candies they think are in the jar. Write down each birthday party guest's guess. At the birthday party's end reveal who guessed closest to the right number. The winner takes home a small prize, or the whole jar with its contents!
Don't say it!
Give out bead necklaces (like Mardi Gras beads) to each person as they arrive. Tell the girls that they are not allowed to say the words "birthday", the birthday girls name and any other word that the girls use a lot such as "like" , etc. If a girl is caught saying one of the off limit words then they must give their necklace to the person who caught them saying it. Play this game throughout the whole party and at the end of the party the girl with the most bead necklaces wins a prize.
Party Games for 5 and 6 year olds

Party games for ages 7, 8 and 9

Birthday games for 10, 11, 12 years old
Beauty Party Food Ideas
Chocolate covered strawberries
Sparkling grape juice in champagne flutes
Tea cakes
Lemon squares
Trays of chocolates
Fruit platter
Beauty Party Favor Ideas
Nail polish
Sleep masks
Flip flops
Facemasks
Foot Scrub
Eye shadow
Body glitter
Makeup
Pony tail holders
Hair ribbons
Goody / Loot Bag Ideas
Makeup bag
Small basket
Plastic makeup organizer
What great ideas do you have for a Beauty party for kids? Beauty party ideas
FROZEN
Birthday Party Ideas!
Unique games, activities, icebreakers, decoration ideas, party favors and more!
Birthday Quotes, Wishes, Poems, Sayings and birthday wishes for birthday cards
---
Great ideas for a party including kids birthday games, birthday themes, decorations, themed parties, invitations, themed party favors, sleepover ideas, birthday party RSVP help, party ideas for kids birthdays, scavenger hunts, bday party themed activities.

Games at a party are easy with our pary theme pages - each page has many to choose from and there are also party games listed by age catagory - 1st birthday, games for 2, 3 and 4 year olds, 5 and 6, 7, 8 and 9 years old and a tween page too. Over 175 boy themed and girls themed parties. Birthday party ideas for a fun kids, tween ( 10, 11, 12 years old ) or teen (
13, 14, 15, 16, 17, 18 year olds ) celebration!
© Kelula 2007 - 2014