Home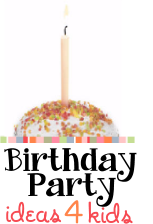 Half Birthday Party Ideas
Half Birthday parties are for kids whose birthday's fall in December and January and have their birthday's are overshadowed by the holidays.



A fun way to remember them and make their birthday special is to have a half birthday party.

Set the date as close to 6 months from their real birthday as possible.


Half Birthday Invitations

On a blank note card make all the party information line up so that it is only on one side of the card.

Cut Birthday party invitations in two and send in 1/2 an envelope (be sure to include all the party information on the 1/2 card).

Start the party on the half hour i.e. 3:30.
Half Birthday Decoration Ideas
There are so many ways to decorate for a half birthday - here are just a few.
Decorate only half of the party room. Decorate only half of the party table. Decorate half of the room with streamers and the other half with helium balloons. Buy heavy duty paper plates and cut them in half. Fill drink cups only half full and if you serve appetizers or food only put them them on 1/2 of the serving tray / dish. Or buy 1/2 Cup Measuring cups and serve drinks in them. Decorate the party table with two tablecloths of different colors.
Bake a cake and before frosting cut it in half. Ice both halves completely (you will need extra frosting).
Wrap only half the box of the presents.



Half Birthday Games
Have a half time show

Play half of some games or take two games and combine half of each of them into one new game.

Race to fill up buckets of water using 1/2 cup measuring cups - have kids race as teams against each other.
Party Games for all ages - Birthday Party Games
Scavenger Hunts with free item lists - Scavenger Hunts
Party games for girls - Girls party games
Party games for boys - Boys party games
See our page of fun Pool Party Games , Sidewalk Chalk Games and Water Balloon Games for a fun summer party.

Half Birthday Food Ideas
1/2 Cookies
1/2 Sandwiches
1/2 of a cake
Hamburgers cut in half
Half Birthday Party Favors
1/2 bags of candy
1/2 sheet of stickers

Half Birthday Goody Bag Ideas
Wrap up candy in a 1/2 Cup plastic measuring cup

---
Great ideas for a party including kids birthday games for boys and girls, decorations, invitations, birthday themes, themed party favors, sleepover ideas for boys and girls, fun ideas for birthday party planning, bday party themed activities ,scavenger hunts and real simple and cheap
birthday party ideas for kids! Let us help you plan your next birthday party at home!
Good birthday party ideas for kids, tweens and teens ages 1, 2, 3, 4, 5, 6, 7, 8, 9, 10, 11, 12, 13, 14, 15, 16, 17 and 18 years old
.

© Kelula 2007 - 2015