Birthday Party Ideas 4 Kids

Home
Birthday Themes
175 Birthday Themes
1st Birthday Ideas
Pool Party Ideas
Teen Ideas
Tween Ideas
Twins Party Themes
Party Games
1st Birthday Games
2 , 3 and 4 years old
5 and 6 year olds
7, 8 and 9 year olds
Boys Party Games
Girls Party Games
Icebreakers
Party Games
Pool Party Games
Scavenger Hunts
Tween Games
Sleepovers
Sleepover Ideas
Slumber Party Games
Home Spa Recipes
Truth or Dare Questions
Boys Sleepover Ideas
Scavenger Hunts
All with FREE item lists!
Mall Scavenger Hunts
Scavenger Hunts
Party Ideas
Party Venues
Birthday Tips
Candy Buffet Tips
Goody / Loot Bags
Invitation Ideas
Menu Ideas for Parties
Party Favors
RSVP Help

Birthday Activities
Birthday Party Activities
Birthday Crafts
Bubble Activities
Craft Recipes
Sidewalk Chalk Games
Water Balloon Activities
About
Contact
Directory
Share Your Party Ideas
Sitemap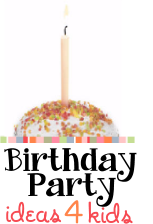 Pool Party Theme Ideas
Fun Swimming Pool Party Ideas for kids!



Use these great ideas to make your next pool party extra special.

Unique ideas for Pool Party invitations, decorations, food, favors, games and activities that will bring the whole pool party theme together quickly and easily!

We've created a whole page just to hold all the pool party games - print them out and keep them handy during the party.

Pool Party Games



Choose the ideas that fit your style and budget and put them together for the perfect party.





Pool Party Invitations
Write party information on beach balls with a black permanent marker and send deflated to guests.

Write pool party information on Frisbees and send to guests - ask them to bring the Frisbees to the party!

Send sunglasses with a colorful tag that has the information for the party.

For a pirate pool party send a treasure map style invitation.


Pool Party Decorations
In the trees outside the party venue hang small blow up swim rings, swim goggles, nose plugs, etc.

Use colorful beach towels for table cloths.

Fill buckets with sand and tie helium balloons to the handles.

Hang fishnets around the edge of the party and fill with shells, crabs and seahorses.

Hang blow-up beach balls around the party area.

Place swim rings around the mailbox or in front of the party venue to tell party guests "This is the place!"

Decorate with palm trees (easy to make by cutting out large green leaves then hang about 20 straight gold or brown ribbon strands from the middle to make a hanging trunk. These can be as tall as you want - just make the ribbons long. )
Pool Party Activities

Make funky flip-flops




Buy cheap flip-flops for each guest. Cut colorful fabric into strips 1 - 1.5 inches x 3 - 4 inches. You'll need about 80 cloth strips per pair of flip-flops. Tie the strips onto the top of the flip-flop - covering the whole top part. Really fun and the kids love them! For complete directions

Funky Flip Flops - Party Activity, Craft and Favor

Beach Ball Exchange
Buy enough blow-up beach balls for every guest. Blow them up and let kids autograph each others with permanent markers. Fun activity while presents are being opened or kids are eating.

Pool Party Games
See our Pool Party games page for lots of great ideas for swimming pool games



Party games for ages 7, 8 and 9
Party Games for 5 and 6 year olds
Birthday games for 10, 11 and 12 years old
Teen party ideas for 13, 14, 15, 16, 17, 18 year olds
Pool Party Food Ideas


Hot dogs or hamburgers.

Goldfish crackers served in large conch shells.

Shell pasta with alfredo sauce.

Blue Jell-O with Swedish fish inside. Serve in clear containers.

Sandwiches cut with a fish shaped cookie cutter.

Jell-O jiggles cut into fish, starfish and shell designs with cookie cutters.

Set out a sundae bar where kids can make their own sundaes. Sprinkles, syrups, toppings and fruit.

Taco or Nacho bar.

Let the kids decorate their own BIG cookie or cupcake.


Party Favors for Pool Parties


Pool noodles - find them at the dollar store for cheap!

Swim rings

Large pool floats

Swimming masks or nose plugs

Water guns

Water balloons

Flip-flops

Sunglasses

Bubbles

Beach balls

Beach towels

Buckets and shovels - use for goodie bags to hold the party favors

For pirate parties - Temporary tattoos, eye patches, doo rags, or foam swords
---
Great ideas for a party including kids birthday games, birthday themes, decorations, themed parties, invitations, themed party favors, sleepover ideas, birthday party RSVP help, party ideas for kids birthdays, scavenger hunts, bday party themed activities.

Games at a party are easy with our pary theme pages - each page has many to choose from and there are also party games listed by age catagory - 1st birthday, games for 2, 3 and 4 year olds, 5 and 6, 7, 8 and 9 years old and a tween page too. Over 175 boy themed and girls themed parties. Birthday party ideas for a fun kids, tween ( 10, 11, 12 years old ) or teen (
13, 14, 15, 16, 17, 18 year olds ) celebration!
© Kelula 2007 - 2014