Bug & Flower Party Garden Theme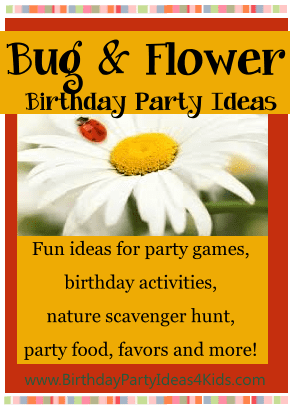 The Bug and Flower Garden theme is great for birthdays celebrating twins, siblings or any child who likes nature.

Included in the Bug and Flower birthday party ideas is a fun Nature Scavenger Hunt! The Nature Scavenger Hunt is a fun way for kids of all ages to collect different nature items from the garden, park or backyard and combine it with a fun party game.

The list is free to print out with lots of fun items to find!
Combine the two interests of bugs and flowers and have a Nature Scavenger Hunt.


Nature Scavenger Hunt
The Nature Scavenger Hunt can be used at a park, lake, pond or backyard. Each guest receives a nature scavenger hunt list and collection items (see below).They then are sent off in pairs or groups with their list. Have a prize for the winning team who finds the most items. Remove any potential hazards such as fire ants and poisonous plants before the children arrive. Give each hunter a gallon size plastic baggie, bucket and spoon to collect their items.
Free Nature Scavenger Hunt List to print out
Bug and Flower Birthday Invitation Ideas
Make fun flower garden / bug themed birthday invitations for your party using blank cards and scrapbooking stickers/cutouts.
Bug and Flower Party Decorations
Cover tables with green tablecloths and set out plastic or real flowers in vases. Place real and artificial flowers throughout the room. Cut large petals that look like flowers from paper or butcher paper and tape together on the walls so they look like flowers. Make a super size flower garden.
Tie ribbon to helium balloons. Attach plastic flying insects and bugs to the other end of the ribbon. Don't tie the balloons down and have them rest on the ceiling so the bugs look like they are flying.
Bug and Flower Party Games
Pin the bug on the flower
Played just like pin the tail on the donkey only use a large poster of a flower and bug stickers. Buy or draw a flower on a poster board. Make sure the flower has a stem and leaves and doesn't take up more then 10% of the poster. Mark a spot on the large flower using a sticker or marker in case more then one player gets their bug on the flower - the player closest to this mark wins. Attach the poster to a wall. Give each party guest a bug sticker that has a a number written on it. If you can't find stickers then you can make ladybugs and beetles out of colorful paper.
Party guests form a single line about 10 feet from the poster. Blindfold the first player in line and spin them around (skip this step for younger children) three times. Point them in the direction of the poster and have them try and get their bug on the flower. The guest who's sticker is closest to the flower (or mark on the flower) wins a prize.
Outdoor Party Games
Fun outdoor party games that are perfect for a bug / flower birthday party! Games and activities for squirt guns, water balloons, sidewalk chalk, pool noodles, hula hoops and many more!
Party Activities
Make bug antenna's with fuzzy pipe cleaners, headbands and painted Styrofoam balls.

Decorate terra cotta pots with stickers or paint. Fill with potting soil and the kids can pick some pretty flowers to plant in them .
Birthday Party Food
Butterfly Bow tie pasta and cheese
Cheese (cut with butterfly cookie cutter) and crackers.
Make dirt / garden cupcakes. Fill individual cupcake liners 1/2 way with chocolate pudding. Crush Oreo cookies and sprinkle them on top of the chocolate pudding to fill the liners. Place gummy worms in the cupcakes and add pretty plastic flowers on top. This a also a fun activity for the party goers to make!
Bug and Flower Party Favors
Bug Nets
Magnifying glass
Plastic bugs
Small rake or toy hoe


Goody / Loot Bags

Plastic Bucket and shovel
Pot that is filled with party favors
Plastic or wooden wheelbarrow
Small watering can to hold party favors
Bug / flower printed cup