Birthday Party Ideas 4 Kids

Home
Birthday Themes
175 Birthday Themes
1st Birthday Ideas
Pool Party Ideas
Teen Ideas
Tween Ideas
Twins Party Themes
Party Games
1st Birthday Games
2 , 3 and 4 years old
5 and 6 year olds
7, 8 and 9 year olds
Boys Party Games
Girls Party Games
Icebreakers
Party Games
Pool Party Games
Scavenger Hunts
Tween Games
Sleepovers
Sleepover Ideas
Slumber Party Games
Home Spa Recipes
Truth or Dare Questions
Boys Sleepover Ideas
Scavenger Hunts
All with FREE item lists!
Mall Scavenger Hunts
Scavenger Hunts
Party Ideas
Party Venues
Birthday Tips
Candy Buffet Tips
Goody / Loot Bags
Invitation Ideas
Menu Ideas for Parties
Party Favors
RSVP Help

Birthday Activities
Birthday Party Activities
Birthday Crafts
Bubble Activities
Craft Recipes
Sidewalk Chalk Games
Water Balloon Activities
About
Contact
Directory
Share Your Party Ideas
Sitemap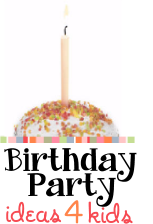 Girls Birthday Party Themes
Girls party themes and fun girls birthday party ideas
We have lots of great ideas for girls birthday parties. Start by choosing a birthday theme from our long list of fun girl's birthday party themes. There are so many to choose from ... fun and creative themes such as ballerina, art, princess, fairy, Alice in Wonderland, Zebra and many more. Each of the girls party themes include ideas for party planning, birthday invitations, decorations, games, activities, food, party favors and goody / loot bags.
Our Sleepover / Slumber Party guide will help you plan the perfect sleepover. Lots of great games to play, activities to discover and crafts to make along with helpful advice that will make the night go smoothly. Whether the sleepover is for a birthday or just to get the girls together for a fun night we've got it covered!

Homemade spa recipes are a great addition to the Sleepover ... make some fun and easy facial masks, peels and beauty products from items you already have at home.

Print out our long list of Truth or Dare questions that are perfect for parties or sleepovers. The questions are fun and rated G for everyone.
A party isn't complete without some fun games to play! Our list of girls party games will have them enjoying the party and getting to know each other in no time.
If you are feeling adventurous and the girl in your life likes to shop how about planning a Mall Scavenger Hunt? We've made it easy to pull one together with our free item lists. There are 8 different Mall Scavenger Hunts to choose from ... something for everyone! Search for items from A - Z, have a one color picture hunt or use our Freebie Mall Shopping spree to find and collect over 40 items in the mall that are free!
Party games for ages 7, 8 and 9

Party Games for 5 and 6 year olds

Birthday games for ages 10, 11, 12


Finish off planning your party with a few of our fun party crafts and party craft recipes.

Also see our
Girl Party Games
and
Girls Sleepover Ideas
.
FROZEN
Birthday Party Ideas!
Unique games, activities, icebreakers, decoration ideas, party favors and more!
Birthday Quotes, Wishes, Poems, Sayings and birthday wishes for birthday cards
---
Great ideas for a party including kids birthday games, birthday themes, decorations, themed parties, invitations, themed party favors, sleepover ideas, birthday party RSVP help, party ideas for kids birthdays, scavenger hunts, bday party themed activities.

Games at a party are easy with our pary theme pages - each page has many to choose from and there are also party games listed by age catagory - 1st birthday, games for 2, 3 and 4 year olds, 5 and 6, 7, 8 and 9 years old and a tween page too. Over 175 boy themed and girls themed parties. Birthday party ideas for a fun kids, tween ( 10, 11, 12 years old ) or teen (
13, 14, 15, 16, 17, 18 year olds ) celebration!
© Kelula 2007 - 2014