Away from Home Party Venues and Kids Birthday Party Places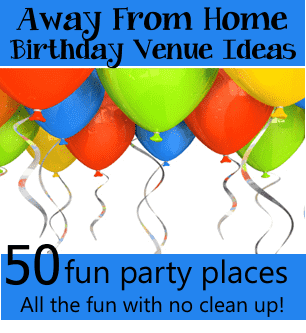 Over 50 fun places to have a birthday party away from home for boys and girls! Great kids birthday party venues for kids party places.

We've listed our favorite places for kids birthday parties - check your local area for bday party venues near you.

All the fun with no clean up!! Birthday party themes are fun at away from home birthday parties too. Check out our birthday party theme page with over 200 fun and unique birthday party themes that can be used at a kids party location near you. Toddler Birthday Party Places, fun places and birthday venues for kids, tweens and teenage birthday parties.

Kids Birthday Party Places


Apple Picking
Great party idea for Fall birthdays! Pick apples in an orchard and then set up an outdoor picnic for guests.

Amusement Park
Spend the day having fun together at a local amusement park!

Aquarium
The Aquarium provides a wonderful place to have a birthday party away from home!

Arcade
Fun for all ages! Most have a party room and special packages to purchase for guests.
Ariel Circus Arts
Some larger cities have a party package where guests can have fun learning the trapeze and other circus arts! Very unique venue!

Art Party
Take party guests to an art studio for a creative ceramics or an art project to work on and then take home!

Botanical Garden
Great place for kids to learn and have the freedom to run and play during the party. Stay for a picnic lunch and cake.

Bounce Houses
A huge warehouse filled with different bounce houses for all ages! Party rooms are available for groups.

Bowling
Great way to have fun with party guests!
See our Bowling Birthday party theme
and also the You Must Bowling game to take with you to the lanes.

Build a Bear
Guests choose a bear to make and take home as a party favor. A fun birthday party venue that has many locations.

Escape Room
Fun for older kids, tweens and teen parties! The guests are locked in a room and must work together to figure out clues on how to escape!

Farm or Ranch
Guests will love being able to see a working farm and all the animals! Most towns have a Farm venue with petting zoos and fun things to do.

Fire Station
Some fire departments will host birthday parties for kids for a small donation.

Go Karts
Great for older kids, tweens and teen parties. Race with friends and then have cake in the party room.

Gymnastics Gym
Some gymnastics gyms will rent out the whole gym for birthday parties. Guests will have fun running, tumbling and jumping into the foam pit.

Hayride
Fun fall birthday party! Some places will also let you pick pumpkins while you are out on the ride.

Horse Back Riding
Fun party venue for kids and a lot of places have party packages that will include cake, balloons and decorations. Some also have a petting zoo that kids can do for free with the purchase of a party package.

Hotel Stay Shopping
Great for tweens and/or teens! Pick a large hotel next to or adjacent to a large mall. (Use bonus hotel points so the rooms are free). Give the girls, usually 2 - 3 plus the birthday girl, a little money each and let them shop the mall. Eat a birthday dinner at the mall if there is a nice restaurant and swim in the hotel pool afterward. You can also play mall scavenger hunt for extra fun!

Ice Skating /Roller Skating
Still a lot of fun for kids to do as a group! Most places will have party packages and party rooms for cake and ice cream.

Indoor Hotel Pool
Rent a hotel room and use the indoor pool that night for their party. Great idea for winter parties. Add a mall scavenger hunt for more fun.

Indoor Inflatable bounce houses
Most will have a large space filled with different bounce houses, slides and obstacle courses. Great party venue for active kids! Private rooms are available for cake and presents. Check Pump It Up or Jump Zone to see if they are in your area.

Karate / Self Defense
Different party idea and one that is fun and instructional! Let the kids learn self defense or the basics of karate. Some Karate studios also have a birthday party package filled with fun games and activities which make it a great birthday party venue.

Laser Tag
Fun and exciting for girls and boys! Most laser tag places have party plans and guests will be able to do several rounds of laser tag.

Mall Scavenger Hunt
8 different scavenger hunts with free scavenger hunt lists.
Stay and have dinner or ice cream at the mall.
Free mall scavenger hunt lists

McDonalds
The old stand-by, but younger kids love playing and seeing Ronald.

Miniature Golf
Most miniature golf places will have party plans and rooms and this venue makes for a cool birthday party place!

Movies
Fun for everyone! Add popcorn and a hot dog.

Museum
Museums can be a great place to have a birthday away from home! Most will offer tours and special pricing for groups.
Away from Home venue party supplies, decorations and party favors from Amazon


Paint Ball
Lots of fun for older kids, tweens and teen parties. Most will have a birthday party package to keep costs low.

Painting Class
Some art studios will teach a quick technique class for a birthday party, 10 years +, and they will be able to have a painting to take home that day.

Park
Set up fun outdoor games and activities for guests and finish with an outdoor picnic and cake! See our Outdoor games pages for lots of great games to play at parties!

Petting Zoo
Let kids enjoy lots of different friendly animals! Most have party areas where you can bring cake and have a picnic lunch for party guests. Great party place for toddlers, kids and even older preteens and teenagers love the zoo.

Planet Pizza
Indoor rides and pizza - what could be a better place for a birthday party?

Planetarium
Guests will be able to explore the universe!

Play / Theater / Musical
Treat your guests to a play or musical.

Paint Ball
Fun for older tweens and teens! Paintball gun rental is available - usually parties can be scheduled for 2 or 4 hours.

Park
Set up your party in the park! Play kickball or baseball and grill hot dogs (if they have fire pits or grills). Have fun relay races and bring lots of drinks and sunscreen. Use our fun Nature Scavenger hunt with a free scavenger hunt item list to print out for your party in the park.

Pumpkin Patch
Let guests pick out their own pumpkin and decorate it for a fun take home party favor! Stay for a picnic and maybe a hayride if available!

Restaurant
Have everyone meet at a special restaurant for dinner and cake!

Rock Wall Climbing
Rock Wall climbing is a great place to have a party! Guests conquer climbing on inside rock walls! Lots of fun and most have different level walls to accommodate everyone.

Ropes Course
Great place to have a party for older kids, tweens and teens. Groups learn to work together and have fun!

Science Party
Check your local museums and Science places for group deals on birthday parties.

Scrapbooking Party
Find a local scrapbooking store and ask about Scrapbooking parties. Many have fun sessions just for birthday parties. A great way to introduce kids and preteens to scrapbooking.

Skateboard Park
Fun away from home party place for older kids, tweens and teens. 9, 10, 11, 12, 13, 14, 15, 16, 17, 18 years old.

Spa
Pamper your guests with an away from home spa experience - manicure, pedicure or facial treatments.

Sporting Event
Take guests to a baseball, football, hockey or basketball game! Some stadiums provide a party package that includes great deals on food and drinks for the party guests.

Tea Party Birthday
Doll shops and tea shops will set up a wonderful treat for your little princess! Fancy dishes, table wear and food.
Top Golf
Relax and let party guests enjoy golfing in a fun environment!
Train Station
Some train stations will host birthday parties where guests will be able to see and learn about trains.
Trampoline Park
A huge building filled with safe trampolines! Great fun and party place for all ages!
Water Park
Fun daylong adventure. Check for group rates.
YMCA
Check the local YMCA for classes and pool parties!
Zoo
Great place to spend the day for a fun birthday party! Most have picnic areas to serve lunch and cake. There are also special behind the scenes tours that groups can take to make it amazing! Ask for a group rate to make it a cheap birthday party place for kids.
Do you have some fun birthday party locations and special
places to have a kids birthday party? First birthday away from home parties are very popular also. Send it to us and we will include it on this Birthday Party Places page!
If you have any fun places to have a kid birthday party or cheap birthday ideas that we missed please send it in! 1, 2, 3, 4, 5, 6, 7, 8, 9, 10, 11, 12, 13, 14, 15, 16, 17, 18 year old birthday party places.
Party Games for all ages! Use these fun party games during your birthday away from home.