Birthday Party Ideas
4 Kids
Home
Themes
Birthday Themes
1st Birthday Ideas
Pool Party Ideas
Teen Ideas
Tween Ideas
Twins Themes
Party Games
1st birthday
2 , 3 & 4 year olds
5 and 6 year olds
7, 8 & 9 years old
Boys Games
Girls Games
Icebreakers
Party Games
Pool Party Games
Tween Games
Sleepover Games
Slumber Party
Spa Recipes
Truth or Dare
Boys Sleepovers
8 Mall Hunts
Scavenger Hunts
Party Ideas

Birthday Tips
Candy Buffet Help
Goody Bags
Invitation Ideas
Party Favors
Menu Ideas
RSVP Help
Activities
Party Activities
Craft Recipes
Bubble Activities
Sidewalk Chalk
Water Balloons
Contact
Share An Idea
About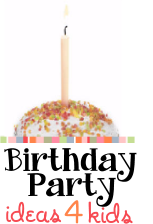 Boys Party Ideas
We've collected the best birthday party ideas for boys to make party planning easy!

Boys of all ages will love these birthday party ideas, birthday themes, party games, scavenger hunts, activities and sleepover ideas!
Boys Party Themes
Choose some great boy party themes from our huge list of over 170 themes. See our whole list of birthday party themes for boys You'll find great ideas and inspiration like, camouflage, baseball, football, camping, circus and Mario Brothers just to name a few of our kids party ideas for boys.


Boys Party Games
Start out with a great party theme and then check out our pages full games boys like to play. You will find relay races, games of skill and competition and games that are just plain fun.
Boys party games

Party games for boys 7, 8 and 9 year olds

Games for boys ages 5 and 6 years old

Games for ages 10, 11, 12
Sleepover Ideas for Boys - Fun ideas for boys only! Great games, activities, food ideas and more for a boys sleepover or slumber party!
Boys Party Activities
We've also listed our favorite games and activities for water balloons, sidewalk chalk and bubbles that boys like to play at parties.

Boys also like to do things in a group to accomplish a goal or task so how about setting up a Scavenger Hunt that they can do together or in teams.
Our scavenger hunts are easy to put together especially with the 2 free item lists we have for you to print out. The scavenger hunt lists have over 20 items each. Use one for all the teams or print out both lists so the teams will find different items.
There is a great scavenger hunt that doesn't use an item list called the Bigger Better Scavenger Hunt.

For this game teams are sent out with a small item, like a penny or button, and at every house they ask to trade the item for an item that is either bigger or better then the item they have. Set aHint: Let each team take a wagon or some way of carrying home large objects ... the time we did it one team came home with a TV!

If your boy and his friends like animals they can use our Animal Shelter Scavenger Hunt to collect items for your local Animal Shelter and then drop them off during the party.

Mix and match these fun party games and activities to match your boys party theme.
---
Great birthday ideas for a party including the best kids birthday games for boys and girls, birthday themes, fun
ideas for birthday party planning, scavenger hunts, decorations, invitations, themed party favors,
sleepover ideas for boys and girls and bday party themed activities that are real simple and cheap birthday party ideas for kids!

Let us help you plan your next birthday party at home!
Good birthday party ideas for kids, tweens and teens ages 1, 2, 3, 4, 5, 6, 7, 8, 9, 10, 11, 12, 13, 14, 15, 16, 17 and 18 years old.

© Kelula 2007 - 2016