Birthday Party Ideas 4 Kids

Home
Birthday Themes
175 Birthday Themes
1st Birthday Ideas
Pool Party Ideas
Teen Ideas
Tween Ideas
Twins Party Themes
Party Games
1st Birthday Games
2 , 3 and 4 years old
5 and 6 year olds
7, 8 and 9 year olds
Boys Party Games
Girls Party Games
Icebreakers
Party Games
Pool Party Games
Scavenger Hunts
Tween Games
Sleepovers
Sleepover Ideas
Slumber Party Games
Home Spa Recipes
Truth or Dare Questions
Boys Sleepover Ideas
Scavenger Hunts
All with FREE item lists!
Mall Scavenger Hunts
Scavenger Hunts
Party Ideas
Party Venues
Birthday Tips
Candy Buffet Tips
Goody / Loot Bags
Invitation Ideas
Menu Ideas for Parties
Party Favors
RSVP Help

Birthday Activities
Birthday Party Activities
Birthday Crafts
Bubble Activities
Craft Recipes
Sidewalk Chalk Games
Water Balloon Activities
About
Contact
Directory
Share Your Party Ideas
Sitemap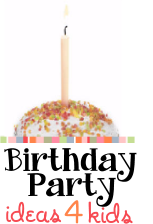 Winter Birthday Party Ideas
We've listed our favorite Winter birthday party ideas and Winter themes to give you inspiration for your next birthday party!

Each party idea includes a page full of free ideas for birthday invitations, decorations, party food, party games, birthday activities, crafts, activities and much more.

All the ideas are listed on one page so it makes it easy to mix and match what birthday party ideas will make your party amazing!
Winter Birthday Party Themes
Charity Party
A Charity party is a great birthday party theme for kids who want to help others during the holidays. We've listed lots of great ideas and charities to choose. There is also a free Animal Shelter scavenger hunt and canned food scavenger hunt to benefit your local Animal Shelter and Food Bank.
Gingerbread Man Party
Run! Run! As fast as you can ... to catch these great party ideas about a gingerbread man! Fun winter and holiday birthday party theme for all ages.

Penguin Party Ideas
Fun ideas for a Penguin themed birthday party. Make the winter come alive with these crazy penguin party ideas!

Polar Bear
Nothing says winter like an ice cold Polar Bear birthday party theme! Fun ideas to keep everyone busy and happy ... and warm!

Snowflake
We've listed all of our favorite Snowflake birthday party ideas including games and activities.
Winter Party Games and Activities

Winter and Christmas Time Party Games
See our huge list of fun games for winter and Christmas parties. Some of the games include: Penguin Relay, North Pole Scurry, Freeze Dance and 18 more party games, icebreakers and activities.

White Elephant Exchange
Great party idea for all ages. Party guests bring and exchange unwanted or funny gifts in a crazy way.

Christmas Time Scavenger Hunt
This Christmas Time Scavenger Hunt will have everyone looking for fun Christmas themed objects.

New Years Scavenger Hunt
Bring in the bright New Year with a Fun New Year's scavenger hunt. Free list includes lots of fun New Years related things for teams to find.
Mall Scavenger Hunts
Unique birthday party activity and a great idea when it is cold or snowy outside. We've listed 8 different Mall Scavenger Hunts to choose from ... all are fun and have free scavenger hunt lists. The Freebie Mall Shopping Spree lists over 40 things to collect in a mall that are free!
---
Great ideas for a party including kids birthday games, birthday themes, decorations, themed parties, invitations, themed party favors, sleepover ideas, birthday party RSVP help, party ideas for kids birthdays, scavenger hunts, bday party themed activities.

Games at a party are easy with our pary theme pages - each page has many to choose from and there are also party games listed by age catagory - 1st birthday, games for 2, 3 and 4 year olds, 5 and 6, 7, 8 and 9 years old and a tween page too. Over 175 boy themed and girls themed parties. Birthday party ideas for a fun kids, tween ( 10, 11, 12 years old ) or teen (
13, 14, 15, 16, 17, 18 year olds ) celebration!
© Kelula 2007 - 2014