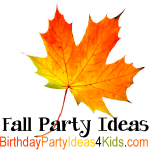 Party Themes
Birthday Themes
Party Games
Invitations
---
Fall Party Ideas
Fall Party Ideas, party themes, party games and activities for kids, tweens and teen parties.

Our favorite Fall / Autumn theme party ideas that will make a Fall party easy and cheap to plan! Games and activities for ages 1, 2, 3, 4, 5, 6, 7, 8, 9, 10, 11, 12, 13, 14, 15, 16, 17 years old.

Let's get the party started!

Fall Party Themes
Fall Party Games
Carnival / Fall Festival Games
Cheap and easy carnival style games for kids of all ages!
Fall Party Games and Activities
Unique Fall party games and activities for kids, tweens and teens.
Fall theme Minute to Win It Games
Easy games to play with household items
Fall Party Activities
Fall Scavenger Hunt
Fun Scavenger hunt with 30 Fall / Autumn themed items to find!
Fall Nature Scavenger Hunt
Nature Scavenger Hunt with nature items to find!
---
---
We've listed our favorite kids birthday party ideas, tips, cool party themes,
bday party celebration ideas and advice for kids birthday parties sent in by parents with years of experience - we refer to them as the experts!
Fun birthday party, party planning and ideas that are affordable and really work for boys and girls, kids, tweens and teenage parties. Kids games, Real simple and cheap birthday party ideas for kids for home parties.


©

Kelula 2007 - 2017