Nature Scavenger Hunt List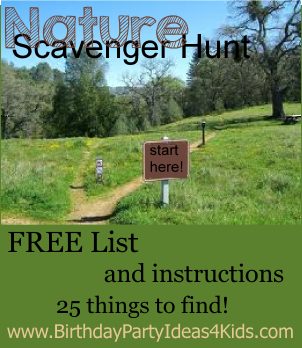 A fun scavenger hunt for outdoors!
This is great to use at a lake, pond, park or backyard.

Take care of any hazards or dangers like fire ants, poisonous plants, spiders, dangerous terrain, etc. before the party.

Each child is given a big gallon plastic baggie, a bucket and a spoon to help them collect their items.
Nature Scavenger Hunt List
More Scavenger Hunt Lists



Kids, tweens and teenage party planning ideas for children ages 1, 2, 3, 4, 5, 6, 7, 8, 9, 10, 11, 12, 13, 14, 15, 16, 17 and 18 years old diy party planning ideas for kids birthday parties and moms and dads.




© Kelula 2007 - 2018
Birthday Party Ideas 4 Kids