Birthday Party Ideas, Themes, Party Games
We have gathered the best birthday party ideas for kids and organized them so you can pick and choose what best fits your theme and budget. The best selection of kids, tweens and teen birthday party ideas. Your one stop guide to planning the perfect kids party!
How to make a December Birthday Special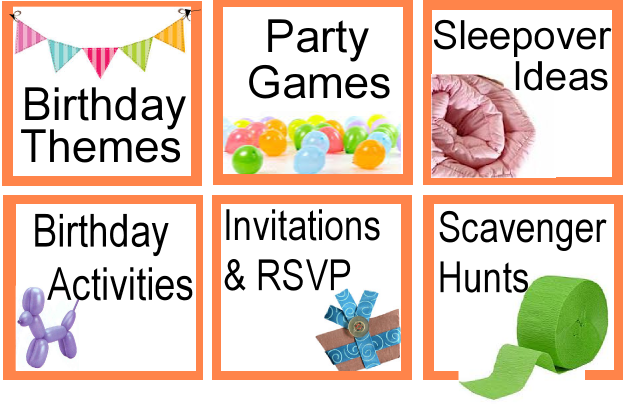 Birthday Themes
Over 175 birthday party themes for kids, tweens & teens



Party Games
Birthday party games for boys and girls parties



Sleepover Guide
Fun sleepover games, activities and planning advice



Activities & Icebreakers
Ideas for birthday activities & icebreaker games



Invitation and RSVP Help
RSVP and invitations - How to get a response to your invitation



Scavenger Hunts
Free scavenger hunt lists, set up and rules

Everything to make your next children's birthday party extra special!






Birthday Party Themes
Birthday Party Themes
Over 175 fun and unique birthday party themes for kids ages 1 - 10. Complete birthday party themes with do it yourself themed ideas for birthday invitations, party games, activities, party decorations, favors and food.

1st birthday party ideas
Party games & activities to make the first birthday extra special.

Tween Party Themes
Themes for
tween parties
- for the in be"tween" ages of 10, 11 and 12.
Teen Party Themes and Ideas

Party ideas that are fun, but more grown up. Includes sweet sixteen music and lyrics.
Twin Themes
Birthday Theme Ideas for twin parties. Double the fun with these great party ideas. Most of the twin themes will also work with sibling and boy / girl parties.
Sleepover / Slumber Party Guide
Sleepover and Slumber Party Ideas
Fun party ideas for sleepovers including invitations, activities, games for girls, crafts, food ideas, favors, party decorations and much more! There's even a long list of fun Homemade Spa Treatment Recipes and Truth or Dare Questions (Rated G) which are free to print out. Everything you need to make planning a sleepover easy and fun for everyone!
Truth or dare game

Free printable truth or dare questions. Great idea for parties and sleepovers.
Rated G.
Birthday Party Games
Birthday Party Games
Only the best party games are listed - see the whole list or choose from an age group for your party games. Each of our birthday themes also have themed birthday party games that match the theme of the party.

Birthday Games for 2, 3 and 4 years old

Party Games for 5 and 6 years old

Party games for 7, 8 and 9 year olds

Birthday games for ages 10, 11, 12

Scavenger Hunts

Scavenger Hunts
A Scavenger hunt is a great birthday party idea for kids! We make Scavenger Hunts easy by providing complete instructions, directions and free Scavenger Hunt item lists to print out. Choose from Neighborhood Scavenger Hunt with 2 different lists, Nature Scavenger Hunt for the park, backyard or woods, Animal Shelter Helper Hunt which lets kids collect items from around their neighborhood to help animals in the shelter and our Holiday Scavenger Hunts.

Mall Scavenger Hunts
8 Fun Mall Scavenger Hunts! All have a free item list. Most don't require the purchase of items.

Birthday Party Activities
Icebreakers
Icebreaker games "Break the ice" when kids first arrive at the party. We've listed our favorite icebreakers which are easy and fun for kids, tweens and teens to play.
Activities
Birthday Activities and Crafts keep kids involved and can easily be incorporated into a birthday theme.

Birthday Party Ideas for Kids
1st Birthday Party Ideas - Fun and easy ideas for the first birthday.

2nd Birthday Party Ideas - Great birthday party ideas for 2 year olds.

3rd Birthday Party Ideas - Perfect ideas to celebrate a 3 year old.

Toddler Party Ideas - Ideas to make a party for toddlers (ages 1, 2 or 3) special for everyone.

4th Birthday Party Ideas - Everything to make the 4th birthday extra special - games, activities, planning advice and more.

Birthday Party Help and Planning Tips

Party Invitations
Birthday party invitations announce your party and also give guests a sneak peek at the theme.

Our invitation ideas page has creative ideas for birthday party invitations that you can make yourself. All the birthday party themes have several invitation ideas to choose from that match the party theme.

RSVP rules and how to deal with sticky party situations.
How and what to write on the invitation tells you how to fill out an invitation, RSVP rules & help with sticky situations.

Birthday Party Extras

Birthday Quotes, Verses and Sayings for birthday cards

How to say Happy Birthday in different languages

Birthstone meanings
Fun birthday sayings and quotes and more!

Birthday Venues
36 fun places to have a birthday party away from home ... see our birthday party venue ideas.

Weve listed our favorite kids birthday party ideas, tips, themes, b day party celebration ideas and advice for kids birthday parties sent in by parents with years of experience - we refer to them as the experts! Fun birthday party, party planning and ideas that really work for kids, tweens and teenage parties.

Do you have a birthday party idea ? Send it in and we will share it with other parents!

Birthday party ideas kids love!