Over 200 Birthday Party Themes
Creative and unique diy birthday themes for kids. Each theme is complete with creative invitations, decorations, activities, crafts, games, food, favors and goody / loot bags. Boys and girls party ideas for children of all ages, tweens and teens.
Party Games and Icebreakers


The best kids party games for birthdays! We've listed our favorite kids games in several different categories (1st or 1 year olds, 2, 3, and 4 year olds, 5 and 6 year olds and ages 7, 8 and 9) so it's easy to find just what you need. Tweens, or ages 10, 11 and 12, have their own list for older age children. But we didn't stop there ... we also have pages full of games for pool parties, boys, girls and sleepovers.

Sleepover and Slumber Party Ideas
Sleepover and Slumber party guide for kids, tweens and teens. Sleepover games, invitations, food, activities and crafts! Creative and fun solutions for planning your next sleepover that will keep everyone happy throughout the night!
See our Boys Sleepovers for boys sleepovers
Birthday Party Activities
Easy and fun activities to keep all the guests busy! Some activities can even double as a favor the kids can take home. Bubble activities, Sidewalk Chalk fun, Water Balloon, Squirt Guns, Beach Balls and much more!

Scavenger Hunts with Free item lists
All of our Scavenger Hunts have free lists to print out.
8 Mall Scavenger Hunts, Animal Shelter Helper, Nature, Neighborhood, Video, Photo and Holiday. All the hard work has been done - just print out the free scavenger hunt item lists and set the kids loose. The hardest part about a will be choosing which one to do! Complete guide includes set up instructions and rules.
RSVP help and Invitation ideas


Fun do - it - yourself invitations and our invitation guide - What to write on an invitation - a great resource for RSVP help and help with sticky situations. Creative ways to word your invitation to make sure you don't have unwanted guests, ask parents to stay - or not to stay, how to get responses to your RSVP requests and more.

Birthday Party Ideas 4 Kids has everything you need to make planning your next boy or girls birthday easy and fun. Start with our huge list of over 200 kids birthday party themes and you are sure to find one that your child will love. Each theme page is packed with great kids birthday party ideas for invitations, decorations, kids games, crafts, activities, kids food, goody or loot bags and favor ideas.

Then check out our giant list of birthday games. The children's games are listed in several different ways to make finding what you need quick and easy. Print out the whole list or choose the page that corresponds to your child's age. We even have separate pages for boy's and girls games.

We are always looking for affordable, new and creative ways to help parents in party planning and creating a happy birthday for every child! If you have a unique or favorite idea for kids favors, menu, goody or loot bags, invitations, decorations, theme or birthday game send them to us and we will add them to the website. Our website is built of finding the best children's birthday party ideas and we know that they come from parents.


Your one stop guide to planning the perfect kids party!


Parties by Age
Birthday themes, party games, activities, party food ideas, favors, timeline
and advice on planning a birthday party by age.


1st Birthday Ideas
Fun and easy party ideas for the first birthday.


2nd Party Ideas
Great birthday ideas for a two year old.


3rd Party Ideas
Perfect party ideas for celebrating being three!

Toddler Party Ideas
Birthday ideas for toddlers (1, 2 or 3 year old) .


4th Birthday Ideas
Everything that will make a four special!

5th Birthday Party
Fun birthday ideas for five year olds

- 9, 10, 11 and 12 year olds

Teen - 13, 14, 15, 16, 17 and 18 years old

16th Birthday Party
Great ideas for girls and guys to make the sixteenth birthday extra special
36 fun birthday party places to have a party away from home ... see our venue ideas for a happy birthday without all the cleanup!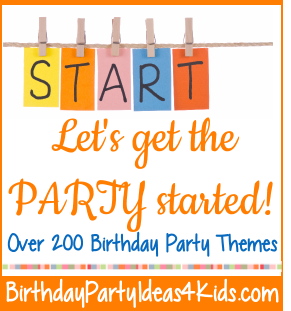 Birthday party ideas kids love!
Pool Noodles
Splash / Water
Side Walk Chalk
Water Balloons