Party Themes
Activities
Party Activities
Sidewalk Chalk
Water Balloons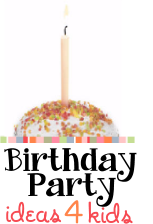 35 Minute to
Win It Games
Birthstone Colors, Gemstones
and Meanings
Birthstone colors, birthstone gemstones and meanings for all the months of the year.

There is also a chart that lists the Birthday birthstones for each day of the week.



Birthstones have always been a good choice for a birthday gift no matter what the child's age.
Birthstone colors can also be used to create a party theme that will be tailored to the birthday child. See our Birthstone Birthday Party Theme for fun ideas to incorporate the birthstone into a birthday party.

Fun ideas for decorations, invitations, games, activities and much more.
Birthstone gems and meanings for the months of the year

January


Birthstone


Garnet
Consistency, perseverance, truth, patience





February
Birthstone

<![endif]-->


Amethyst
Sincerity, health, peace of mind


March


Birthstone

<![endif]-->


Aquamarine
Beauty, honesty, loyalty, creativity


April


Birthstone

<![endif]-->


Diamond
Purity, innocence, eternity, courage


May


Birthstone


Emerald
Faith, happiness, goodness


June


Birthstone

<![endif]-->


Pearl
Longevity, health, faith, peace


July


Birthstone

<![endif]-->


Ruby
Success, integrity, contentment, nobility


August


Birthstone

<![endif]-->


Peridot
Fame, dignity, married happiness


September


Birthstone

<![endif]-->


Sapphire
Love, victory, wisdom, purity


October


Birthstone

<![endif]-->


Opal
Happiness, hope, truth, innocence


November


Birthstone

<![endif]-->


Citrine
Good luck, courage, fidelity


December


Birthstone


Blue Topaz
Prosperity, courage, success, love
Birthday Stones
- Birthstone gems for days of the week for bdays

Monday


Pearl


Tuesday


Garnet


Wednesday


Cymophane /
Chrysoberyl Cat's Eye


Thursday


Emerald


Friday


Topaz


Saturday

<![if !vml]> <![endif]>


Sapphire


Sunday


Ruby
We've listed our favorite kids birthday party ideas, tips, cool party themes,
bday party celebration ideas and advice for kids birthday parties sent in by parents with years of experience - we refer to them as the experts!
Fun birthday party, party planning and ideas that are affordable and really work for boys and girls, kids, tweens and teenage parties. Kids games, Real simple and cheap birthday party ideas for kids for home parties.


©

Kelula 2007 - 2017