Kids Party Ideas and Birthday Party Themes
Over 200 of the Best Birthday Party Themes for Boys and Girls Children's Parties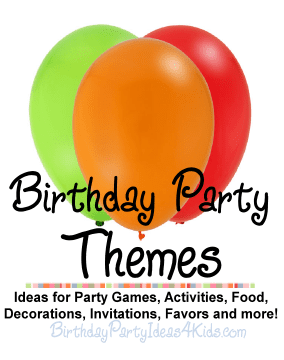 The first place to start when planning a birthday party is with a birthday party theme.
The birthday party theme will weave itself through the party and tie it together. The birthday theme can be brought out in the invitations, decorations, games, activities, favors and goody bag.

When selecting ideas for a birthday theme first ask what your child would like - do they have a favorite character, sport, interest or dream that would make a fun birthday party theme?
We've compiled all of our favorite do it yourself birthday theme party ideas for kids, tweens and teens ages 1, 2, 3, 4, 5, 6, 7, 8, 9, 10, 11, 12, 13, 14, 15, 16, 17 years old. Birthday themes for girls, boys, and first birthday themes too.
Each birthday party theme is complete with free, budget friendly, cool birthday party ideas for boys and girls, invitations, decorations, games, activities, food, favors and goody bags.
Over 200 of the best party theme ideas including funny themes, cool party themes, unique birthday party themes for girls and boys, kids, preteens and party themes for teenagers.
Find birthday party supplies for all our fun themes!
Kids Party Themes

Use these fun and unique birthday theme ideas to get the party started!
Birthday Party Theme Ideas
in alphabetical order.
12 Days of Christmas
1960's Birthday Party Theme
1970's Birthday Party Theme
1980's Birthday Party Ideas
A - Birthday Party Theme Ideas
Acorn
Alice in Wonderland
American Idol
Angry Birds
Animal Shelter Helper
Apple
Art
Avengers
B - Birthday Theme Ideas
Backwards
Ballerina
Baseball
Basketball
Batman
Beach
Beauty
Big Bird
Big Foot
Birthstone
Blues Clues
Bowling
Breakfast With Santa
Bubble Guppies
Bubbles
Bug & Flower
Bumblebee
Butterfly
C - Themes for Parties
Camouflage
Camping
Candy Cane
Candy Corn
Candy Land
Carnival
Carousel
Cars
Casino
Cat in the Hat
Charity
Cheerleading
Cheerleader & Football
Cheetah
Chocolate Spa
Cinderella
Circus
Construction
Cowboy
Cowgirl
Cupcake
Curious George
D - Kids Birthday Themes
Dance
Despicable Me
Dinosaur
Dora the Explorer
Double Trouble
Dr. Seuss
Dragon
E - Fun Birthday Party Themes
Elf
Elmo
F - Unique Theme Ideas
Fairy
Farm
Fear Factor
Fireman
First Letter
Fishing
Flower
Football
Fortnite Party Ideas
Frog
Frosty the Snowman
Frozen Birthday
G - Kids Party Themes
Garden
Gingerbread Man
Giraffe
Golf
Goodnight Moon
Grinch
H - Ideas for Birthday Themes
Half Birthday
Hansel & Gretel
Hello Kitty
Hockey
Horse
Horton Hears a Who
Humpty Dumpty
Hungry Caterpillar Theme
J - Birthday Themes for boys and girls
Jingle Bells
John Deere
Jungle
L - Party Themes
Ladybug Birthday Theme
Lego
Lemonade Birthday Party Theme Ideas
Leopard
Lion and Lamb
Little Boy Blue
Little House on the Prairie
Little Man
Little Mermaid
Llama Birthday Party Theme
Luau
M - Party Theme Ideas

Mardi Gras

Mario Bros.

Masquerade
Mermaid Birthday Theme

Mexican Fiesta

Mickey & Minnie Mouse

Mickey Mouse

Minecraft

Minion

Monkey Party Theme

Monopoly Birthday Ideas

Mother Goose

Movie

My Little Pony


N - Birthday Theme Ideas for Boys and Girls

Nascar

Neon

New Moon

New York City

Noah's Ark

North Pole

Nutcracker


O - Party Themes

Olaf

Old MacDonald

One Color

Owl


P - Themes for Girls and Boys

Paint

Parade

Paris

Peacock

Peas in a Pod

Peter Pan

Penguin

Peter Pan & Tinkerbell

Peter Rabbit

Pink

Pink Flamingo

Pink Poodle in Paris

Pirate Birthday Theme

Pirate and Princess
Pizza Party Ideas

Pokemon Go

Polar Bears

Police

Polka Dot

Polka Dot / Stripes

Pool Party Birthday Theme

Prince

Princess

Project Runway

Pumpkin

Puppy and Kitty Birthday

Puppy Dog Birthday Ideas


R

Rock Star Party Ideas Rudolf Red Nose Reindeer


S - Birthday Theme Ideas

Safari

Sailing

Santa

Scarecrow

Scooby Doo Party Ideas

Sesame Street Birthday

Shark

Sleeping Beauty

Snips and Snails Birthday

Snowflake Birthday Theme

Snow globe

Snowman

Snow White

Soccer

Sock Monkey

Spa Birthday Theme

Space

Spiderman Birthday Ideas

Sponge Bob Theme

Sports

Spy Birthday Theme

Stars Birthday Ideas

Star Wars
Stranger Things Party Ideas

Strawberry Shortcake Birthday

Sugar & Spice Theme

Sugar Plum Fairy

Sunflower

Super Hero

Superman

Survivor


T - Fun Party Themes

Tea Party

Teenage Mutant Ninja Turtles

Texas

Thing 1 & Thing 2

This Little Piggy

Three Little Pigs

Tinkerbell

Tom Sawyer Party Ideas

Toy Story

Train Theme

Treasure Island

Trolls Party Ideas - Games, Activities

Twins Party Ideas

Two Colors


U - Kids Birthday Themes

Ugly Sweater

Under the Sea

Unicorn Party Ideas


V - Party Theme Ideas

Volleyball


W - Party Themes

Watermelon

Western Theme

Wish Upon A Star

Wizard of Oz

Wrestling Birthday Theme


Z - Birthday Themes for boys and girls

Zebra Party Ideas

Zoo Birthday Theme


We are adding new birthday party themes each week!
What are your favorite unique themed birthday ideas? Send in unique and cool themes, funny themes, house party themes, kids party themes for boys and girls, first birthday theme party ideas and we will add them to the best party themes and birthday party ideas website!
Choose a party theme that expresses your child's personality or interests. Break the rules (there really are no birthday party rules!) and make a fun party by combining themes! The main idea is to just have fun!
Use the games and activities on each of the birthday theme pages to keep kids busy and interacting with the other party guests. All of our games are inexpensive and easy to put together using everyday items from around the house. Always have an extra game or two on hand just in case the guests speed through the games and activities. It's always a good idea to be prepared!
A birthday party doesn't need to be expensive to be fun! Shop for birthday party supplies online or at the dollar store. Solid color table cloths, cups and plates are great when combined with items from your chosen theme. Party favors, goody bags and decorations can all be found at the dollar store and combined into a great party treat for all ages!