Scavenger Hunts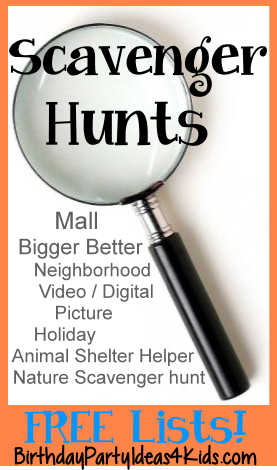 We've included all types of fun scavenger hunts for your next party.
Scavenger Hunt Ideas
8 Mall Scavenger Hunts
Bigger Better
Neighborhood
Video / Digital
Animal Shelter Helper
Nature Scavenger hunt
Picture
New Year's
Christmas
Thanksgiving
Free scavenger hunt lists are included
for the games that need them.
Scavenger hunts are a fun game for birthday parties.
They can be played many different ways, but the main idea is to divide the party into teams, each team has a list of items to find (or things to do) and the first team done wins.
These are our favorite Scavenger Hunt Ideas.
Animal Shelter Helper
22 Animal Shelter Items to find / collect that will benefit your local Animal Shelter.
Free list to print out.
Animal Shelter Scavenger Hunt
Bigger Better
This is a fun non-traditional Scavenger Hunt and it uses no list to play.
Teams start with a small object like a penny, button or paperclip. The teams must them take their object and trade it for something bigger or better.
When they find someone that will trade them something either bigger or better for their penny then they make the trade and go on to the next house to see what they can trade their new object for that is bigger or better.
Set a time limit (1 hour or so) and then have teams meet back at the starting point to find out who traded their object for the bigger and better item.
We've had kids come back with large televisions before! * You might want to provide teams with a wagon to haul their item back!
Traditional Neighborhood Scavenger Hunt
Played by teams going door to door in a neighborhood and asking for items from their list. A sample list could be: an old shoe, teaspoon of flour, green crayon, popsicle stick, band-aid, etc.

(Make sure you send adults out with each team.)

Once the items are collected the first team back to the house within a certain time limit wins.

Those who get back late are given a penalty - 1 item for every 5 minutes they are late.

2 different lists of items to find. Print them out for free. Free Scavenger Hunt Lists



Nature Scavenger Hunt
Our NewNature Scavenger Hunt list has 25 items to look for in nature. Use the free list to find items in a park, pond or lake!
Mall Scavenger Hunts
8 fun and unique Mall Scavenger Hunts with free item lists.
Mall Scavenger Hunts
- check this link to find rules and directions on all of our Mall Scavenger Hunts.
Players are set loose in the mall to find items from a list.
We've come up with 8 great mall scavenger hunts to choose from - many have a free scavenger hunt list. You don't need a lot of money to play - most require no money at all!
Click the links to go to the rules and item lists for each game.
Freebie Mall Shopping Spree
Freebie Shopping Spree
This mall scavenger hunt requires no money, video or digital camera. All the items on the Freebie Shopping Spree list are able to picked up for free. See how many free items the teams can acquire in a 1 - 2 hour time frame. The scavenger hunt list includes: credit card application, merchandise bag with handles, hanger, loose button, employment application, straw, ... 40 items in all!
Salesperson Mall Scavenger Hunt
Salesperson Mall Scavenger Hunt
Scavenger hunt teams must ask salespeople in the mall for items that the salespeople will give them for free. Items can be an old hanger, business card, pricing tag, trash - salespeople must sign a checklist so no two items can be obtained from one store.
A 2 Z Mall Scavenger Hunt
A 2 Z Mall Scavenger Hunt
Teams are given a list of items that start with every letter of the alphabet. Can be played from an alphabetical list, or teams can be given a list with just the letters of the alphabet and can choose what to use for their letters.
Rainbow Mall Scavenger Hunt
Rainbow
Teams must find as many items as they can that are rainbow in color. This scavenger hunt can be modified to fit any character or symbol such as - stars, clouds, characters, sayings, etc.
One Color Mall Scavenger Hunt
One Color
Scavenger teams search for items that are only one color. Choose a color (or many two) or teams can pick their own color. (This scavenger hunt is perfect for the 1 color theme party!). Winning team is the one who brings back the most items of a certain color from their list.
Super Shopper Mall Scavenger Hunt
Super Shopper Scavenger Hunt
Give party scavenger hunters list of items and have them find the best deals they can on those items. Can be played with a digital camera or a small amount of money.
See ourmall scavenger hunts page for more details.
Ultimate Mall Scavenger Hunt
Ultimate Mall Scavenger Hunt
No money required! Teams find crazy items or complete tasks to finish their list.


Informational Mall Scavenger Hunt
Informational
Think you know your local mall? You will after this fun mall scavenger hunt! Teams are required to find out about the mall from a list of items. How many booths are really in the food court? How many elevator buttons? How many stairs to the lower floor ... and many more! No money required!
Picture Scavenger Hunt
Players use their cell phone cameras to photograph the crazy things on their scavenger hunt party list. Since you are using pictures instead of collecting the items the list can be really crazy!
Video Scavenger Hunt
Teams have a list of crazy things the players on their scavenger hunt team must do. Such as all standing on one foot in front of a yellow car, making a human pyramid on someone's front lawn including the owner of the house, walking a dog around the park etc. Use video cameras to record the silly things on their list. When all the groups get back sit down and watch the videos together.
Holiday Scavenger Hunt Ideas
Thanksgiving Scavenger Hunt
fun items to find for the whole family.
New Year's Eve Scavenger Hunt
with 20 fun items to find!
Valentines Day Scavenger Hunt
30 fun things to find!
Spring Scavenger Hunt List
25 things to find!
Holiday Theme Scavenger Hunt Lists