1st Birthday Party Games
1st Birthday Party Games
especially for First Birthday Parties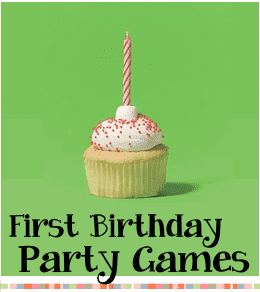 Party Games for the First Birthday
The first birthday party is something very special and these are our favorite games for a first birthday. All of these 1st birthday games are designed for guests of all ages. Pick and choose your favorite games or print out the whole list.

Simon Says 1st Party Game
Young children like to mimic adults so play a fun version of the Simon Says game with these instructions.

Have an adult stand up in front of the kids and other party guests and start patting their head - then ask the 1 year olds (along with the adults) to pat their heads. Then switch to other easy gestures like putting their arms in the air, smiling, dancing, sticking out their tongues or making a funny face.


Hokey Pokey Game
For this 1st birthday party game have adults stand with their child so that everyone is in a big circle.The Leader takes their arm and places it forward into the circle. Then the leader sings the Hokey Pokey song while all the players mimic the leaders actions.
"Put your left arm in (everyone puts their left arm toward the middle of the circle. ) ... Take your left arm out (everyone takes their left arm out of the circle) ... Put your left arm in then shake it all about (everyone put their left arm back inside the circle & then shakes their hand) .. do the hokey pokey, then turn yourself about (everyone puts up their two pointer fingers and points to the ceiling as they turn around) and that is what it is all about!".
Say the last saying after each round while clapping. Then the game continues as you start again but this time it's your right hand, then your left foot, right foot, head and whole self.
Color Poster Boards
Write the child's name on a large poster board. Let them draw with colors and markers on the big poster boards. It is easier if you tape the large poster to a table top, if it's a nice day tape the posters to a fence to make a simple easel.

Dancing Game
One year olds like to dance to music and the first birthday party is the perfect place to show off their skills! Before the party make a playlist of fun and fast songs. Play the songs and let the one year olds dance to the music. Ask all the party guests to join in and dance freestyle! This is a fun activity when guests are waiting in line to have a piece of first birthday cake or before the 1st party starts and guests are arriving.
Party Games for 1 year olds
from Amazon
Freeze Dance Game
Make up a playlist before the 1st party and include lots of fun fast and silly songs. Have everyone at the party dance to music - one year olds can be held by an adult. When the leader calls out "Freeze!" everyone has to freeze in the position that they were in at that time. After 10 seconds call out "Unfreeze" and everyone starts dancing again. Very fun game for one year olds when they catch on to how to play the game!
Bean Bag Pass Game
Make or buy bean bags in bright colors for this fun first game. Have children sit in a circle on adults laps and pass the bean bags around while the music plays.
Make the music stop and have everyone hold on to their bean bag. Then start the music and begin passing the bags around the circle again. If there are older children at the party you can play fox and hen with the bean bags.
Portrait Studio
All the party guests draw a portrait of the one year old!
Gather party guests in a circle around the birthday child. This can be done at a table for a small group or in a large circle for a larger group. Give each person a pad of paper and a pencil. Give the guests a time limit of 5 to 10 minutes to draw a portrait of the one year old.
After the time limit go around the circle and one at a time have each artist hold up their portrait. Have the guests sign the pictures and keep as a memento of the party.
Hen and Fox Game
Party guests sit down. Give a bean bag to two of the children opposite from each other. Name one of the bean bags "Hen". The others name is "Fox". Bean bags are passed around fast to keep the hen away from the fox. This game is fun for all ages. For one year olds have them sit on an adults lap and they can play as a team.
Duck Pond Game
Place rubber ducks into a small tub or pool. 1st Birthday guests take a duck from the pool and win a small prize matching the ducks number. With permanent marker underneath the duck place a number or symbol before the party. Set out prizes that you will give out that match the ducks numbers. Rice or sand can be used instead of water if playing the game inside.
Ball Pit
Make a ball pit with a blowup swimming pool and plastic balls that you can buy at the toy or discount store (the plastic balls like at McDonalds). Let kids climb in and out and play inside of it.
Sidewalk Chalk
Set out lots of sidewalk chalk. Let the older kids and the adults help the one year olds and young kids draw pictures on the porch or driveway. Before the party you can put together some flash cards to give the artists some creative inspiration such as a birthday cake, balloon, party hat etc. After the kids have drawn a picture take a photo of every child with their 1st birthday artwork and send it to them with a thank you card. The guests can also try to draw themselves with the birthday child and then photo the drawings and save in a scrapbook.
Sidewalk Chalk Games for Toddlers
See our
Sidewalk chalk ideas
for more fun ideas for 1st birthday parties.



1st Birthday Party Themes

See our huge list of fun
first birthday party themes
for more first ideas!
There are over 200 fun birthday party themes for kids of all ages! Every page is filled with fun ideas for 1st birthday party games, activities, party food, invitations, decorations and 1st party favor ideas.
1st Birthday Party Ideas

1st Birthday Party Ideas to make it extra special!
First Birthday Ideas