Birthday Party Ideas 4 Kids

Home
Birthday Themes
170 Birthday Themes
1st Birthday Ideas
Pool Party Ideas
Teen Ideas
Tween Ideas
Twins Party Themes
Party Games
1st Birthday Games
2 , 3 and 4 year olds
5 and 6 year olds
7, 8 and 9 year olds
Boys Party Games
Girls Party Games
Icebreakers
Party Games
Pool Party Games
Scavenger Hunts
Tween Games
Sleepovers
Sleepover Ideas
Slumber Party Games
Homemade Spa Recipes
Truth or Dare Questions
Boys Sleepover Ideas
Scavenger Hunts
All with FREE item lists!
8 Mall Scavenger Hunts
Scavenger Hunts
Party Ideas
Party Venues
Birthday Tips
Candy Buffet Tips
Goody / Loot Bags
Invitation Ideas
Party Favors
Menu Ideas for Parties
RSVP Help

Birthday Activities
Birthday Party Activities
Birthday Crafts
Craft Recipes
Bubble Activities
Sidewalk Chalk Games
Water Balloon Activities
About
Contact
Directory
Share Your Party Ideas
Sitemap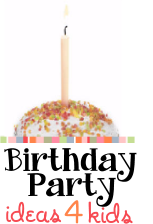 Thanksgiving Scavenger Hunt Item List
Thanksgiving Scavenger Hunt List for items to find during a Thanksgiving Scavenger Hunt.

Scavenger hunts are a fun Thanksgiving game for parties.

Divide guests into 2 teams and print out a Thanksgiving Scavenger Hunt List of items to find for each team.


If you are dividing into two groups assign one group odd number houses and the other group even number houses. Set a time limit - usually 1 - 2 hours - and the first team back gets 10 bonus points. Deduct 1 point for every minute a team is late. Scoring: Give each item a value, or make them all worth 5 points. You can also give extra points for creativity such as bringing back Indian corn, candy corn and corn in a can for Corn.

Adults should always go with children when they are collecting items in a neighborhood.
Feather
Macy's Bag (for the Macy's Thanksgiving Day Parade)
Corn (Indian corn, candy corn, corn in a can, etc.)
Candle
Cornucopia
Scarecrow
Potato
Walnut
Acorn
Leaf (5 pts. For each different type of leaf found)
Indian
Pilgrim
Turkey
Pumpkin
Wheat
Pie tin
Massachusetts or Virginia State quarter (Plymouth Rock and Jamestown states!)
Apple
Thanksgiving card
Stuffing
Cranberry
Hay
Something orange
Something red
Something brown
Napkin
Turkey baster
Fork
Spoon
Oven mitt
Apron
Pilgrim hat
Large buckle
Basket
Green beans
Onion
Popcorn
Pinecone

For more Scavenger Hunt Lists that are free to print out see our Scavenger Hunt page.