Birthday Party Ideas 4 Kids

Home
Birthday Themes
175 Birthday Themes
1st Birthday Ideas
Pool Party Ideas
Teen Ideas
Tween Ideas
Twins Party Themes
Party Games
1st Birthday Games
2 , 3 and 4 years old
5 and 6 year olds
7, 8 and 9 year olds
Boys Party Games
Girls Party Games
Icebreakers
Party Games
Pool Party Games
Scavenger Hunts
Tween Games
Sleepovers
Sleepover Ideas
Slumber Party Games
Home Spa Recipes
Truth or Dare Questions
Boys Sleepover Ideas
Scavenger Hunts
All with FREE item lists!
Mall Scavenger Hunts
Scavenger Hunts
Party Ideas
Party Venues
Birthday Tips
Candy Buffet Tips
Goody / Loot Bags
Invitation Ideas
Menu Ideas for Parties
Party Favors
RSVP Help

Birthday Activities
Birthday Party Activities
Birthday Crafts
Bubble Activities
Craft Recipes
Sidewalk Chalk Games
Water Balloon Activities
About
Contact
Directory
Share Your Party Ideas
Sitemap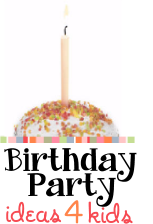 Invisible Ink Recipe
Fun invisible ink recipes for making invisible in at home. Great do it yourself idea for birthday parties.
Lemon Juice
Place lemon juice in a small bowl and write a message on a piece of paper using a small paintbrush.

To read the message hold the paper 6" from a light bulb or iron. The heat will make the writing appear.

Vinegar or Baking Soda (1 to 1 ratio)

Use a small paint brush to write a note on paper. Let dry.

To reveal the writing - boil 1/2 a head of red cabbage in 4 cups of water. Strain the liquid. Paint or sponge the liquid over the writing to reveal the message.

You can also use grape juice to reveal the message.
Fun idea to use with our Spy birthday party theme!
Party games for ages 7, 8 and 9
Party Games for 5 and 6 year olds
Birthday games for ages 10, 11, 12