Paper Bead Necklace Craft
Making paper beads from old magazines is a great birthday party craft for girls.
These fun paper beads are made from rolling up triangle pieces of old magazines and then stringing them together to make a necklace. They are a great craft for birthday parties and a fun way to recycle.
Supplies:
Old magazines with colorful pages
glue
needle
thread or string.
Instructions:
Tear out colorful pages from old magazines.

Cut out a long triangle shape from heavy cardstock for a template so the beads will be uniform in shape.

Place the template on the magazine - make sure the point of the triangle is over a colorful region of the magazine - trace and cut out.

Starting at the wide end of the triangle tightly roll it towards the point. Place a drop of glue on the backside of the point and glue to the rolled up bead.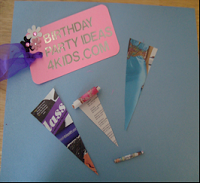 When the beads have been made use a needle and thread to string them together to make a necklace or bracelet.

Experiment with different shapes of triangles for fun results.

Flip Flop Craft
Bow Holder Party Craft
Picture Frame Crafts
Tutu Craft