Bounce House Checklist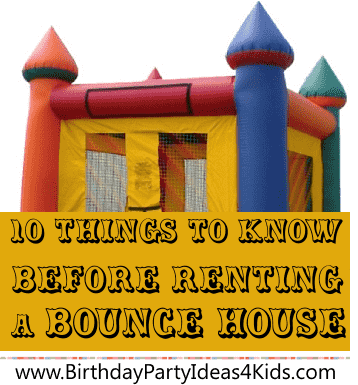 What to know before renting a bounce house
Here are 10 things to check before you rent a bounce house for your next birthday party and that will keep everyone safe and having fun during the party.
Bounce houses, inflatables and moonwalk rentals are a great activity for a children's birthday party. Their large size and bright colors add to the festive atmosphere and they bring an excitement to the party that is hard to match for kids of all ages.
10 things you need to know before renting to make sure you pick the perfect bounce house and rental company for a kids birthday party or children's event.
Use this important checklist to get the best bounce house rental company. Following these guidelines will assure you have chosen the company with the best bounce house safety and reliability.
Put your child and party guests safety first with these key things to check when renting a bouncehouse.
Bounce House Checklist
1. Only rent for children ages 3 - 12.
Because of safety reasons children using the bounce house need to be able to exit a bounce house or inflatable on their own.

Because kids under 3 years old have trouble exiting bounce houses by themselves - bounce houses, inflatables and moonwalks are not appropriate for children under 3 years old.

For older children, over the age of 12, check with the rental company to see if they have interactive equipment instead of a bounce house to rent. Interactive equipment and games are more appropriate for teens and adults 13 years old and up.
2. Rent the appropriate size bounce house.
When making reservations for your party let the company know how many children will be attending the party and their ages. The bounce house rental company will be able to guide you on finding an appropriate size that will fit your budget and your guests.

Too small of a bounce house will not let children freely bounce inside and one that is too big is a waste of money.


3. Be sure the rental company has insurance.
Ask what type of insurance they carry and be specific with your questions.
Be sure that the children using the inflatable will be covered if there is a structural malfunction. (Malfunctions are rare, but as with all amusement devises there are inherent risks.) If a rental company can not service a public park or school then they do not have insurance.
Many times rental companies that have prices that are too good to be true are operating without a business license or insurance. Don't let your kids and their guests use equipment from a rental company that doesn't have you or your children's best interest in mind.
You will have to sign a liability waiver upon delivery. This is necessary because you also need to take responsibility for the equipment and how it is used. The company's insurance is for accidents that would occur beyond anyone's control. It is not for accidents that occur because there was no supervision or the rules were not being followed.


4. Get a written contract.
The bounce house rental company should give you everything in writing - specific dates, pick-up / delivery times and prices - so there are no surprises. Many will email you an invoice that you can check over and make sure there are no problems before the party.


5. Inspect the bounce house when it is delivered for damage.
If there is a problem - do not sign the paperwork. The delivery person should fix the problem or let their office know that there is a problem and find a solution for you. Once you sign the paperwork you are accepting the equipment "as - is". It should hold air and be tied to the ground with stakes. There should be no holes, rips or tears on the mats, flaps or platform.
6. Ask the delivery person to wipe down the mat inside.
Good companies will do this automatically, but to be safe ask them if they have done it. The delivery person should carry cleaning products with them. You don't want someone else's germs at your party.
Rules to keep the party guests safe
7. Supervision is a must at ALL times.
Never leave an inflatable unattended when children are inside. Make sure to designate an adult that will stay with the bounce house and watch the kids during the party.
8. Don't overload the equipment by having too many children inside at once.
Check with the rental company to find out how many children can use the moonwalk at a time. Accidents can occur when the unit is overloaded, unattended or the rules are not being followed.

9. Group children by ages when they use the bounce house.

Keep age groups together - ages 3 to 5, 6 to 8 and 9 to 12.


10. Unplug or power off the unit in high winds or bad weather.

Never allow children inside the bounce house during these conditions.
These 10 things should keep everyone safe and having fun at the birthday party!
Party Games for 5 and 6 year olds


Party games for ages 7, 8 and 9


Birthday games for 10, 11, 12 years old