Over 200 Birthday Party Themes for kids, tweens and teenage parties. All the themes have special games, activities, food, favors and invitation ideas on one page so you can choose which birthday party ideas are best for your child.

The best

Party Games and Icebreakers Outdoor and indoor, beach balls, hula hoops, sidewalk chalk, water balloons, squirt guns, pool noodles, pool party games, by age, group, and holiday games.
Sleepover and Slumber Party Ideas
Sleepover games, activities, free truth or dare questions, easy homemade spa recipes and fun things to do at a sleepover.
Scavenger Hunts and Treasure Hunts
Free item lists, 8 Mall Scavenger Hunts, Treasure Hunt Clues

Birthday Party Activities


RSVP Help and Invitation ideas
What to write on an invitation, RSVP help, how to get guests to respond to your invitation.
Birthday Party Ideas By Age

Choose the birthday party ideas based on the age of the boy or girl and how old the child will be on their next birthday!

Fun ideas for age appropriate boys and girls themes, games, activities, and a free timeline to help get everything organized! Baby girl and boy, 1st birthday and preschool birthday party ideas. For boys and girls age 1, 2, 3, 4, 5, 6, 7, 8, 9, 10, 11, 12, 13, 14, 15, 16, 17 and 18 years old.

Birthday Party Games for Kids

Birthday party games are a great addition to any child's birthday. Party games let the kids interact with their friends and at the same time learn social skills. All of the party games are age appropriate, easy to learn and, best of all, are cheap and require only inexpensive household items to play.

2, 3 and 4 years old

5 and 6 years old

7, 8 and 9 year olds

Tweens and Preteens ages 10, 11, 12



Birthday Party Themes



Birthday party themes are the first thing you'll need when planning the birthday party. Because once you decide on a theme the rest will be easy! The theme will determine the invitations, decorations, games, activities, crafts and party favors.
Kids Birthday Themes
Over 200 fun and unique themes for kids ages 1 - 10. Complete with do it yourself ideas for invitations, games, activities, decorations, favors and food.

Tween Themes - Themes for preteen / tween parties for the in be"tween" ages of 10, 11, 12.

Teen Themes and Ideas - Birthday party ideas and games for teenagers, themes and ideas that are fun, but more grown up. Includes sweet sixteen music and lyrics.

Twin Themes - Double the fun with these great birthday party ideas for twin boys and girls. In addition, most of the twin themes will also work with sibling and boy/girl parties.
Sleepover / Slumber Party Ideas



Sleepovers are a fun way to celebrate a birthday! Our Sleepover Guide has everything you need to plan for the perfect night. Make sure to be prepared for a great slumber party!
Sleepover Ideas and Slumber Party Ideas - Fun sleepover ideas including sleepover invitations, activities, sleepover games for girls, crafts, food ideas, favors, decorations and more fun things to do at a sleepover!

There's even a long list of fun Homemade Spa Treatment Recipes and Truth or Dare Questions (Rated G) which are free to print out. Everything you need to make planning a sleepover easy and fun for everyone!
Truth or dare game - free printable truth or dare questions. Clean and Rated G for all ages.
Great idea for parties and sleepover games.





Birthday Extras



Wishes, Quotes, Verses, Sayings and Poems for a special card greeting. Fun ways to say "Happy Birthday!"
Happy Birthday Wishes, Quotes, Verses and Sayings



How to say

.





Birthstone meanings - 12 months of birthstones and their meanings. Choose the right birthstone that corresponds with the birth month. Also included are the birth month flowers!

Scavenger Hunts



Neighborhood Scavenger Hunts

There are 2 Neighborhood Scavenger Hunt Lists to print out. Use the same list or have each team use a different list. Both lists of 25 items are FREE to print out to use for each game.

8 Mall Scavenger Hunts (with free lists to print out)
- Freebie Mall Shopping Spree - collect over 40 items that are free at the mall.
- Informational Mall Scavenger Hunt - kids, tweens and teenagers collect information from the mall.
- One Color Mall Scavenger Hunt - kids, preteens and teens search for pictures of items in one color.
- Salesperson Shopping Spree - players search for salespeople with characteristics from their list.
and 4 more fun, easy and inexpensive mall scavenger hunts.

Miscellaneous Hunts
Nature Scavenger Hunt - guests are given an item list of things to collect in nature. Especially a fun activity for the park, backyard or while camping.

Animal Shelter Hunt (find things to donate to the local animal shelter)

Holiday Scavenger Hunts

We make Scavenger Hunts and Treasure Hunts easy by providing complete instructions, directions and most of all free Scavenger Hunt item lists to print out.
Treasure Hunts

Birthday Venues


50 fun Kids Birthday party places to have a birthday party away from home! All the fun and no cleanup! Fun ideas for kids parties -


Send Us Your Birthday Party Ideas
Party planner help that makes planning the perfect party easy to plan. Fun and cheap boys and girls birthday party ideas sent in by moms and dads, parents and grandparents that kids really love!
We are always looking for affordable, new and creative ways to help parents in planning and creating a happy birthday for every child! As a result our website is built on finding the best children's birthday party ideas for girls and boys age 1 - 18 especially for their 1st, 2nd, 3rd, 4th, 5th, 6th, 7th, 8th, 9th, 10th, 11th, 12th, 13th, 14th, 15th, 16th, 17 and 18th birthday.

Your one-stop guide to planning the perfect kids birthday party!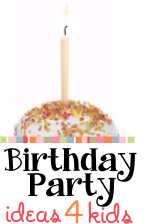 Outdoor and Backyard Games for Kids

Pool Noodle Games

Splash / Water

Side Walk Chalk

Water Balloons